How To Upgrade iCloud Storage On iPhone

Apple provides it's users with 5 Gigabytes of free iCloud storage space. If you use iCloud primarily for the backup of your own iOS devices, you can usually get along quite well with the free storage, especially since you can also save space efficiently by cleverly managing the iCloud storage. However, especially users who use iCloud Photos to synchronize photos and videos quickly reach the limits of their iCloud storage, depending on the size of the media library. For this reason, you can upgrade iCloud storage directly on the iPhone!
How to expand iCloud storage on iPhone

Settings → [your Name] → iCloud → Manage Storage → Change Storage Plan

On your iPhone, open the "Settings" app and tap your name at the top. Then select "iCloud" and choose "Manage Storage". Now go to "Change Storage Plan" to buy more iCloud storage space.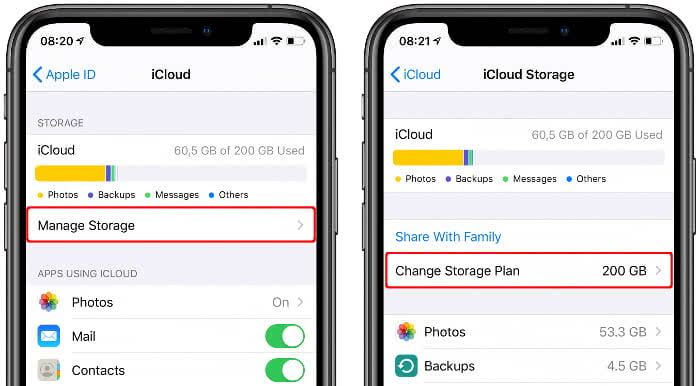 If you haven't upgraded your storage space yet, you will see the free 5GB option under Current Plan.
Right below Select Upgrade you can now upgrade your iCloud storage. First tap the plan you want – e.g. 200GB for 2,99$ per month – and then tap "Buy" in the top right corner. After entering your Apple ID password, the purchase will be made and the new plan will be active immediately. You will be billed monthly via the payment method stored in your Apple ID.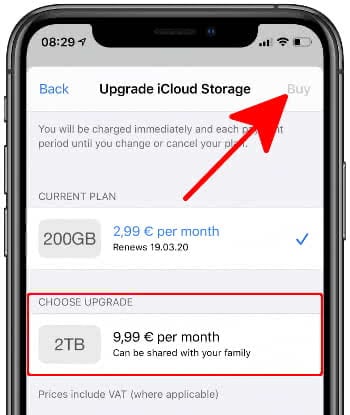 Tipp: Did you know that you can also expand the iPhone storage via SD card?
How to Downgrade iCloud storage

Settings → [your name] → iCloud → Manage Storage → Change Storage Plan → Downgrade Options

If you have increased your storage space in the past, you will find the "Downgrade Options" button at the bottom of the Upgrade iCloud Storage section. Again, you will need to enter your Apple ID password.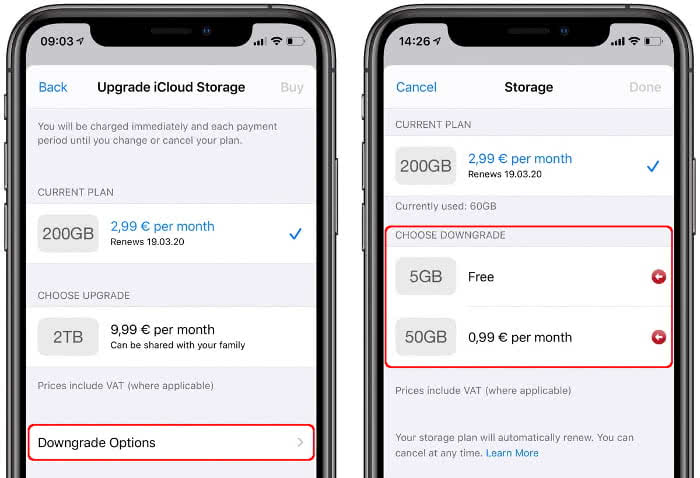 This way you can downgrade the current iCloud storage plan to a cheaper plan or to the free 5GB option. The downgrade will take place after the current plan expires; you can find the date of expiration under Current Plan below the pricing.