How To Cancel iCloud Storage Plan

With iCloud Apple offers a comfortable way to store the numerous data, files, pictures & videos of your iPhone in the cloud storage. Since a lot of data accumulates over time, the free iCloud storage of 5 Gigabyte is often no longer sufficient. You then have the option to upgrade your iCloud storage for a monthly fee. But what if you want to cancel your iCloud subscription because you no longer need it. In this article we will show you how to cancel your iCloud storage plan directly on your iPhone!
How to cancel iCloud subscription on iPhone
Fortunately, you can cancel the iCloud subscription directly on your iPhone. You can either downgrade your iCloud storage plan to a smaller plan or cancel your iCloud subscription by downgrading to the free plan.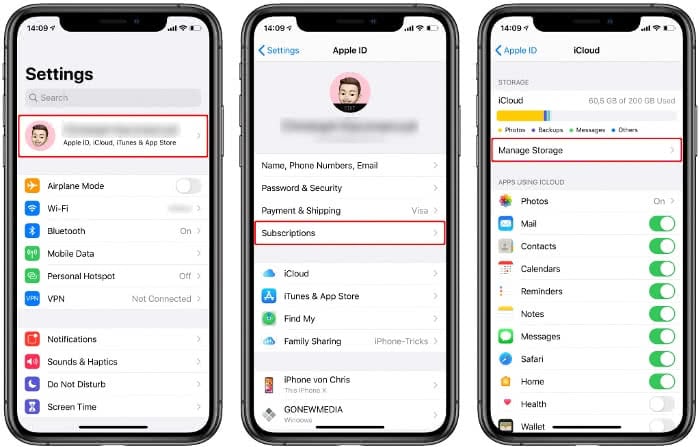 To cancel the iCloud storage, you must first open the "Settings" app on your iPhone, tap on your name at the very top and then select "iCloud". In this section you tap on "Change Storage Plan".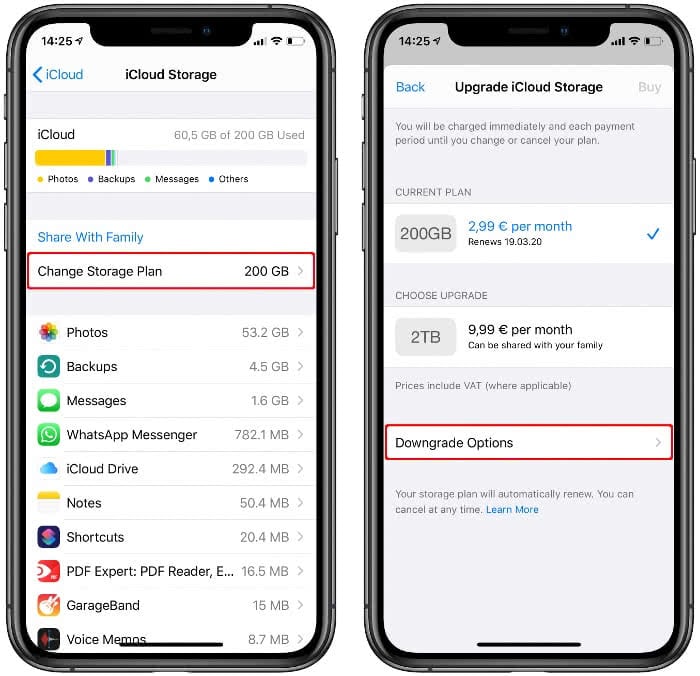 Now you can see how much iCloud storage you currently have and what it costs per month. You can also see how long the current billing period is running, i.e. when you can cancel the iCloud storage.
To cancel your iCloud subscription you have to select "Downgrade Options" at the bottom. Now you have to identify yourself again with your Apple-ID and after you have entered your password you will get to the next screen where you can cancel the iCloud storage.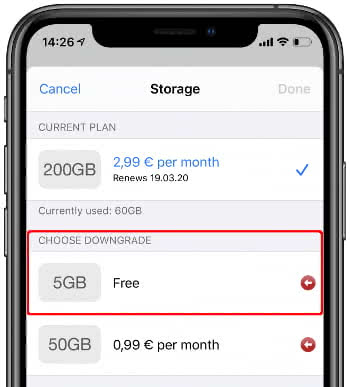 Now simply select the free storage plan ("5GB") to complete the downgrade. At the end of the current and already paid period your iCloud storage plan will be switched to the free plan.
Although you have not completely cancelled your Apple iCloud subscription, this would only be the case if you delete your Apple ID. But now you don't pay monthly for your iCloud storage anymore.
What happens with the data?
It's not clear whether data already stored in iCloud will be deleted, or if only the storage of new data and files will stop working after the iCloud storage is cancelled.
Unfortunately, Apple does not answer this question specifically in the official support documents and only tells that if you downgrade or cancel your plan and your stored iCloud content exceeds the available storage space, some of your data will not be uploaded to iCloud.
To be on the safe side, you should create an iCloud backup or a backup via iTunes before you cancel the iCloud storage.