iPhone SMS Backup & Contact Backup to PC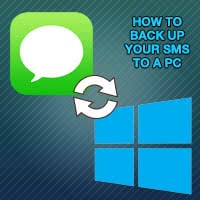 The easiest way to take care of storing your old SMS messages on your iPhone is to set up the iCloud backup. If you need a more extensive iPhone SMS Backup solution that allows you to read the SMS on whatever computer you are currently using, try CopyTrans Contacts. This suite of tools stores an iPhone SMS backup in easily readable formats and thus makes it extremely accessible to you.
If you give the free trial a go, you can back up the SMS messages of up to 50 contacts. That should be plenty for most, but you can get even more for free. By sharing the app with your friends via Facebook or Twitter, you can gain 25 additional contacts per referral, free of charge.
The Windows application is suitable for anyone who is interested in keeping their business or private contacts extra safe. For a tutorial on how to use the app, see this video that was made by the developers of CopyTrans Contacts:
Creating a backup of your messages with CopyTrans contacts will create views of the conversations that look almost identical to what you see on the iPhone. The exported HTML files can then be viewed using Microsoft Word or a browser.