Video As Wallpaper On The iPhone Lock Screen

Maybe you already know that you can use Live Photos as background on your iPhone. This will turn your lock screen wallpaper into a small video clip when you hold it down. If Live Photos are too short for you, you can also set an entire video as wallpaper on your iPhone lock screen. And it's that easy!
Download "VideoToLive" app
To use a video as your wallpaper in the iPhone lock screen, you must first download the free VideoToLive app from the App Store. The app allows you to convert videos up to 30 seconds long into Live Photos of the same length. As a reminder, Live Photos are usually only a few seconds long. With this app you can trick the time limit for Live Photos.
How to set video as wallpaper on iPhone lock screen
After you have installed the app on your iPhone, follow these steps:
1. When you open the VideoToLive app, you will be taken to the Videos view, where all your iPhone videos are displayed. Select a video that you want to set as wallpaper on your iPhone lock screen.
2. In the next view you can trim the video with the trim function at the bottom. In addition to the yellow markers, you can also use the "Start" and "End" buttons for this purpose. When you play the video, you can tap "Make Cover" to select a still image that will be displayed if the video has not yet played. You can see how long the video is at the top in the middle.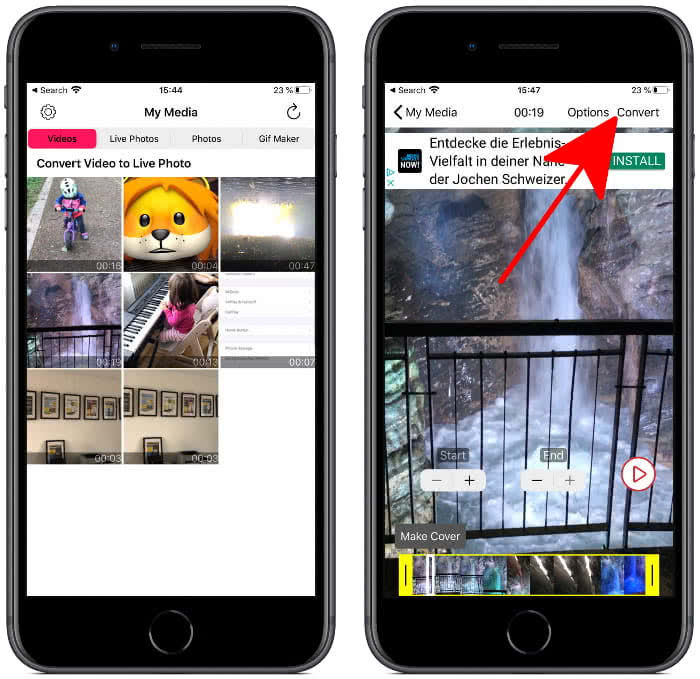 3. As soon as you have finished editing the video, tap "Convert" in the upper right corner. The video is then converted into a Live Photo and stored in your Photos app.
4. Go to "Wallpaper" in the "Settings" app and tap on "Choose a New Wallpaper" at the top. Scroll down to the "Live Photos" section, select the video you just converted and tap "Set". Make sure that the Live Photo button in the bottom center is enabled. Then, tap "Set Lock Screen" in the pop-up window, that's it!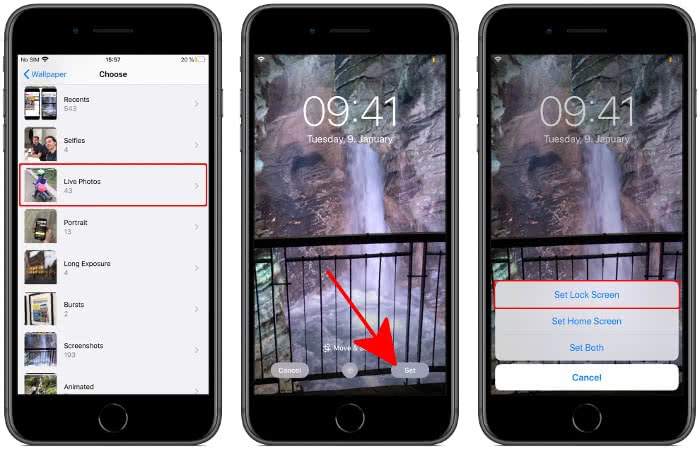 If you now tap and hold the picture in the iPhone lock screen, you can play the complete video (maximum 30 seconds!). By the way: The trick does not use more battery power than a normal background image at first. Because if you don't play the video, it's a normal still image. Only if you watch the video frequently, the battery will be more heavily loaded.