How to send the middle finger Emoji in WhatsApp & on iPhone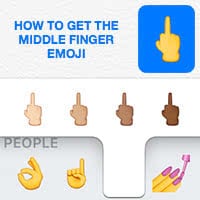 How to get the middle finger emoji on iPhone: This is a guide on how you can give someone "the finger" and truly express your feelings in WhatsApp on iPhone. Android users already have and use the most rude of all emoji, while Apple hasn't been as quick with their implementation of the latest Unicode set of emoji. As soon as everyone will be on iOS 9.1 and above, the middle finger emoji will come as a standard asset.
You may have have looked for it on your emoji keyboard, which is chock-full with multicultural smileys and the like, but no middle finger in sight. To access the middle finger emoji, you will have to apply a little trick.
This will only work in WhatsApp up to iOS 9.0 and below. Other apps do not currently support this new and edgy emoji. You don't need a "middle finger emoji app" or any additional software to do it. However, we recommend you update your WhatsApp application to the latest version by going to the "App Store" app any verifying that you have installed all available updates.
Users on iOS 9.1 and above will be able to use the middle finger emoji and its multicultural versions in any app.
How to copy the "middle finger emoji"
It's not possible to add the middle finger emoji to your keyboard, however you can copy and paste it into WhatsApp and it will work! Note that you will not be able to see the symbol in the below box, but trust us, as soon as you paste it into WhatsApp it'll work:
Copy the middle finger emoji from here: ?
How to add the middle finger emoji as a shortcut
The above procedure might by a little labor-intensive if you send out a bunch of middle finger emoji every day. To make your workflow easier on the hands, try adding the emoji as a shortcut. You should still have it in your clipboard if you followed the prior instructions.

Settings > General > Keyboard > Text Replacement

Go to your "Settings" app and select "General", then "Keyboard" and finally "Text Replacement" to add a new phrase (we recommend beginning it with a colon or other special character, so it won't be triggered by accident) and paste the middle finger emoji in the "Shortcut" field. Done!