How To Hide WhatsApp Last Seen Status on Your iPhone
Would you like a little more privacy within WhatsApp? By default, everyone who has WhatsApp installed and your contact data at hand can see when you were last online, checking your messages. This is a potential privacy hazard and could be quite uncomfortable, especially if you are trying to avoid another person. Luckily, you can turn off the WhatsApp "Last Seen" feature or reconfigure it to your needs. This guide will show you how this is accomplished.
How to turn off the "last seen" feature in WhatsApp
WhatsApp Settings → Account → Privacy → Last Seen

Within WhatsApp, you'll find a menu bar at the bottom of the screen. Tap the "Settings" icon and continue to the "Account" section. Select "Privacy" to see all options regarding your personal data and how WhatsApp will handle such details. As you can see in the screenshots, WhatsApp allows you to configure your "Last Seen" option, as well as "Profile Photo" and "Status".

Each of these sections lets you define whether anyone with WhatsApp and your contact can view them, or if you would rather restrict the access to your contacts only. A third option titled "Nobody" will show this information to – you guessed it – nobody. So if you prefer to keep your "Last Seen" time and date to yourself, simply set it to "Nobody".

Note that WhatsApp privacy settings always go both ways. If you switch something off for yourself, this restriction will also apply to what you can see regarding your contacts. If your "Last Seen" setting is enabled for "Nobody", you will not be able to view the "Last Seen" date for any of your friends.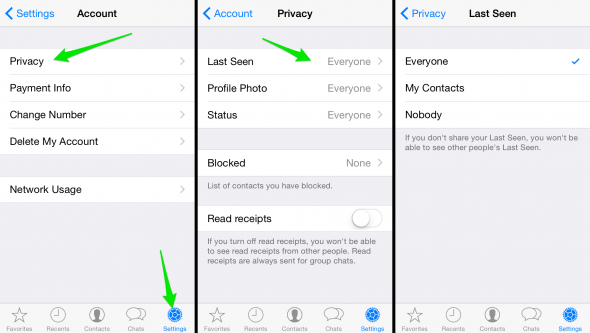 You can also hide your online status while chatting. As of right now people can still see you are online while typing. Learn to hide online status while typing.