Block Text Messages From Unknown Senders & Spam on iPhone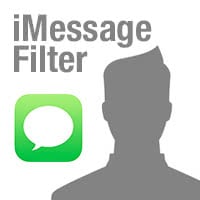 Is iMessage spam annoying you on a daily basis? Do you get lots of text messages from unknown senders, numbers that don't belong to your regular contacts? There is a way to filter or block unwanted text messages in the native "Messages" app on your iPhone. By using our trick, you will be able to collect all of the texts received from unknown phone numbers in a special area of the app. Unfortunately, this method does not yet work for regular SMS messages. The iMessage spam filter has to be enabled by the user, as it is not active by default.
How to filter iMessage texts from unknown senders
Settings → Messages → Filter Unknown Senders

To follow along with our guide, you will need iOS 8.3 and above.
To filter unknown senders open up your "Settings" and scroll down until you see the section labeled "Messages". Scroll down once more until you see the options "Filter Unknown Senders". Enable it to activate the iMessage spam filter.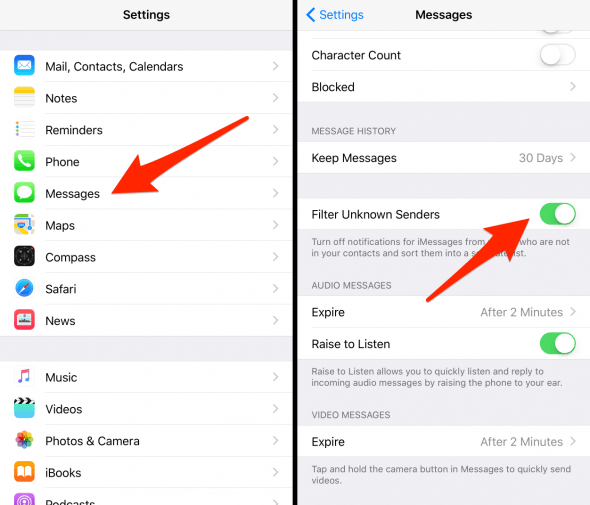 Unknown senders in separate conversation list
Once you enable it, your list of conversations in the "Messages" app will be divided into two sections. One contains your contacts, while the latter collects all messages from "Unknown Senders" and spammers. You can move between the two to check your important messages, or focus on the potentially unwanted ones. We recommend taking a peek into the latter section from time to time, just to make sure that the filter doesn't pick up anything important in addition to a text message from unknown sender.

You also get calls from unknown numbers you want to block? We explain how to block calls from unknown numbers in this guide.
No ringing & no notifications for filtered unknown senders
Your iPhone will neither ring nor display a notification for messages received from unknown iMessage senders. Thus it is of great importance to add any and all useful contacts to your address book. You will be able to access the iMessages from within the app in your conversation view. Also, the iPhone will still display a notification count on the app icon that includes potentially unwanted messages from unknown senders.
How to report iMessage spam & unwanted advertisements
To report iMessage spammers, iMessage junk and unwanted advertisements that is being sent by numbers and accounts unbeknownst to you, open up the message in question in the "Messages" app. Then tap "Report Junk" to report the sender for distributing junk or spam messages to Apple.