How to Fix "Unable to Move Message" Error on iPhone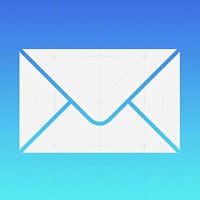 When moving or deleting an email on your iPhone, you might encounter the following error message: "Unable to Move Message" and "The message could not be moved to the mailbox Trash". This bug is particularly annoying when you are dealing with high volumes of email and need to clean up your inbox. Luckily, it is not hard to fix in most cases. Here's our guide on how to fix the "Unable to Move Message" error.
The issue
Some of the time, your "Mail" app might give you trouble with deleting email threads or singular emails and will output the following error message:
This is caused by the "Mail" app being unable to transfer a message, that is to be deleted, to its final destination: Most of the time, this will be an IMAP folder which is labeled "Trash" or similarly. Depending upon your setup, this might be the number one reason for the above error message. The typical culprit is found in your settings, which fail to specify a destination for deleted email.
How to solve the "Mail" app issue
Settings > Mail, Contacts, Calendars > Account > Mail > Advanced

To fix this issue, open up your "Settings" app and go to "Mail, Contacts, Calendars". Then select the account that is affected by this issue, or if unsure, simply go through the following steps with all of your email accounts. When viewing an account, scroll down all the way and select "Mail" in the section for advanced settings. Then tap "Advanced" at the very bottom of this screen.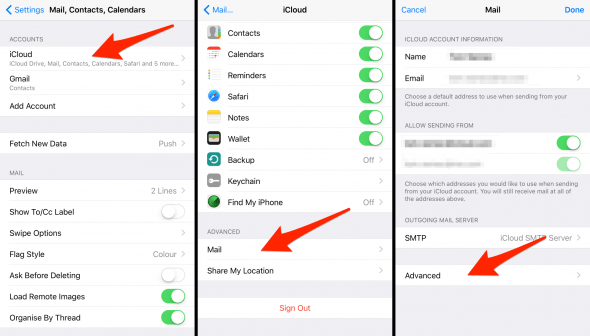 Now tap "Deleted Mailbox" and verify whether the correct mail folder on your server is selected. It should read "Deleted Messages" or something along those lines. Finally select "Deleted Mailbox" as a destination for discarded messages from the settings screen.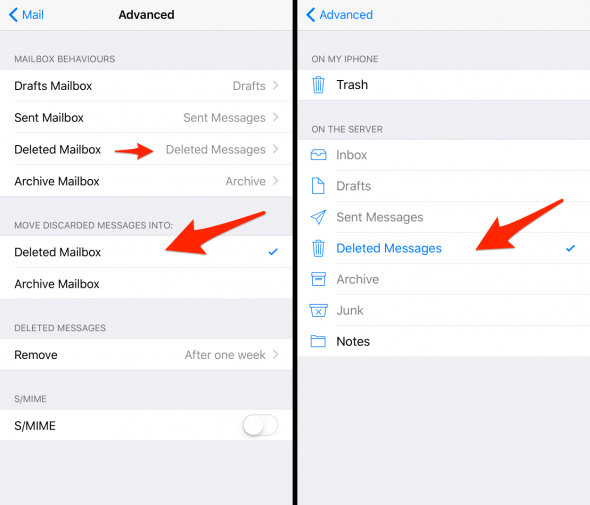 Your iPhone should now be aware of where to put deleted and discarded messages and not present you with the error anymore. Should the error occur regardless of the above steps, you may need to delete and reconfigure the email account that is giving you trouble.
Hint: Ever wonder how you could be managing your email more efficiently on your iPhone?