Reset Apple ID Password with Two-Factor Authentication

We recommend enabling two-factor authentication to further secure your Apple ID. You are probably aware that two-factor authentication is an awesome way of adding another security layer on top of your username, password and security questions. But what if you forget your login? Here's how to reset your Apple ID password with two-factor authentication enabled. We hope that you have your Recovery Key handy. The process is slightly more complex than a usual password change but don't worry, we'll guide you through it.
It's alright to forget your Apple ID password, but what you will definitely need is access to one of your trusted devices, as well as the "Recovery Key" that has been created during the process of activating two-factor authentication.
How to reset your Apple ID password with two-factor authentication enabled
To reset or change your Apple ID password with two-factor authentication enabled, you will have to open the following URL on a PC, Mac or your iPhone:
To continue, enter your Apple ID login to begin the process of restoring your access. Tap or click "Next" when ready.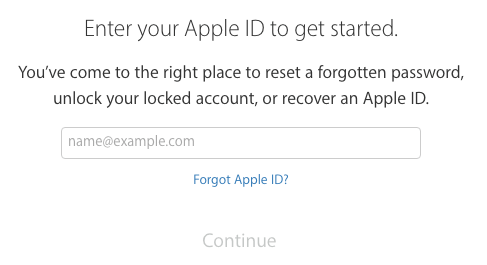 Next up, the website will ask you for your "Recovery Key". It should look like a serial number consisting of letters and numbers, beginning with RK and consisting of 12 characters in groups of 4, separated by a dash. Hopefully you've taken note of this sequence while activating two-factor authentication as recommended, as it is a requirement for the password reset process of your Apple ID. If you lost your Apple ID and Recovery Key, you're out of luck.
After entering the Recovery Key, Apple will provide you with a verification code on one of your trusted devices that have "Find my iPhone" set up correctly. Enter the 4-digit code in the password reset assistant and tap or click "Continue".
You can now create a new password for your Apple ID. Remember to use 8 or more characters, both upper- and lowercase letters as well as at least one number. After creating a strong password and saving it in a password manager or writing it down in a secure location, tap or click "Reset Password" to complete the process.
You do not have an Apple ID yet. Follow our guide to learn how to create your Apple ID.