How to Make a Call From iPhone Lock Screen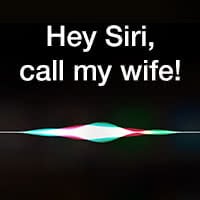 Did you know that there is no need to unlock an iPhone to make calls? When you allow Siri to be used on the Lock Screen, anyone can make a call without having to unlock the device. This works without knowledge of the passcode and/or a registered fingerprint for Touch ID. If you prefer to lock this feature down and avoid that strangers will be able to use Siri to retrieve your identity, call people or more, check out the end of this guide for more information. Here's our guide on how to make any call from the iPhone Lock Screen.
Requirements: at least iPhone 4s
Siri is required to follow along with this guide, making the iPhone 4s or a later version of the iPhone a requirement for this trick. Other than that, it should work on any recent version of iOS as long as you allow Siri when locked.
Make Calls Without Unlocking Your iPhone
This feature is pretty handy if you aren't equipped with Touch ID and want to make a quick call to any number, either known or unknown to Siri. Apart from that, it could come in handy in emergency situations, when strangers need to use your iPhone and you are incapacitated or not available for some reason. When disabled, only the default emergency numbers can be dialed by unauthenticated users.
Hint: In case of emergency you can use Siri to make an emergency call. Learn more about emergency call with Siri.
Press and hold the Home Button on a locked iPhone to bring up Siri. This will allow us to enter voice commands and place calls. For instance, we can tell Siri to "call [Number]" and she will make a call to the desired number. You can substitute 1234567 in our example for any other number.


If family members have been added to the owner's iOS address book in the Contacts app, we can use these to have Siri call e.g. the spouse, father, or any other special contact by asking Siri to "call my [person]". This also works with contact names.


Disable Siri on the iPhone Lock Screen
For some people, this function is undesirable for privacy and safety reasons, especially if your iPhone is equipped with sensitive contact details or a number that should be kept private from third parties. Or you might be afraid that losing your iPhone could result in a large bill, because anyone can place a call without even knowing your passcode.
Settings → Touch ID & Passcode → Siri
To turn off Siri on the Lock Screen, open up your "Settings" app on the iPhone. Then select "Touch ID & Passcode". You will then be prompted to enter your current passcode for authentication purposes. This options screen allows us to determine which features are available on the Lock Screen. Uncheck "Siri" to turn the above functionality off completely.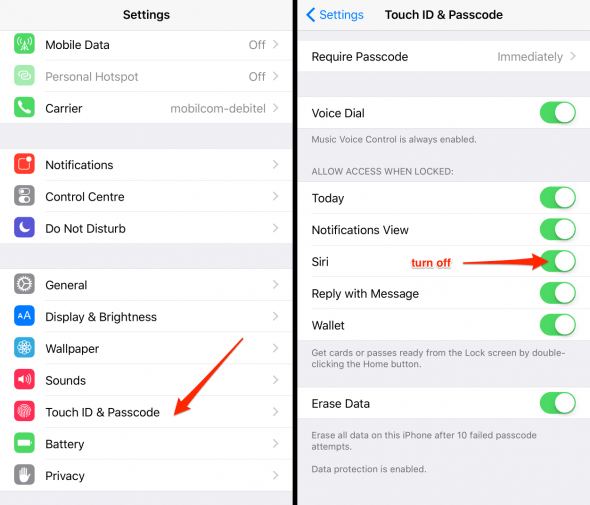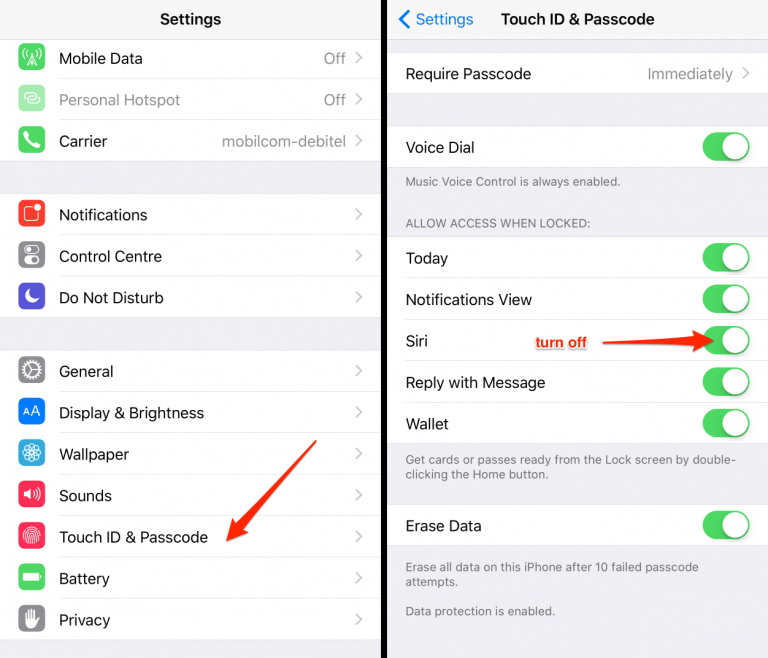 No one will be able to invoke Siri voice commands on the Lock Screen of your iPhone from now on, unless you switch the toggle back on. To access Siri, unlock your iPhone using Touch ID or the passcode.