How to Switch Off an iPhone Without the Power Button

Your iPhone Power Button (also known as Sleep/Wake Button) is broken and you want to shut your iPhone off, or at least lock the screen. Unless you fix the button, you'll have to use a workaround to turn off your iPhone without using the Power Button. Luckily, there are ways around using the power button, in the settings of your phone. This guide will show you how to lock or even shut down an iPhone without using the Power Button.
Shutting down or rebooting your iPhone is rarely necessary, but can be required to fix intermittent issues with your networking and apps. Usually, you would press and hold the Sleep/Wake Button until the "Slide to Power Off" slider would appear. This is of course hard to do with a busted Power Button.
Shut down iPhone with broken power button
Settings → Accessibility → Touch → AssistiveTouch → Device → press and hold "Lock Screen"

"AssistiveTouch" is there for ergonomic reasons. It allows disabled individuals with a limited range of motion to fully control their devices without having to use the physical keys.

Open up your "Settings" app and go to the "Accessibility" menu. Tap on "Touch" and choose "AssistiveTouch" once again. Now enable "AssistiveTouch" by pressing the switch on the right hand side.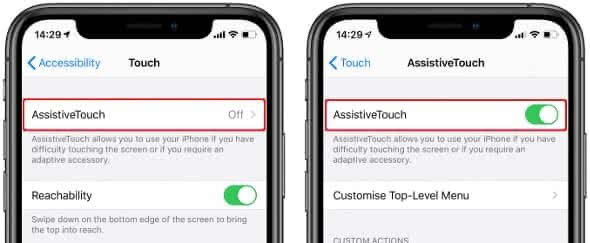 Note: If you want to turn off your iPhone without sliding you can just go to the "Settings" than "General" and tap "Shut Down" to power off with out "Slide to Power off".
You'll notice a small circular shape appear, usually on the right hand side of your screen. By tapping the dot, you can access the menu options of AssistiveTouch. The feature can simulate a press of the Home Button and even lock the screen if you press "Device" and then "Lock Screen". Now press and hold the "Lock Screen" icon and the "Slide to Power Off" screen will appear. There you go, now you can turn off your iPhone without Power Button and Home Button.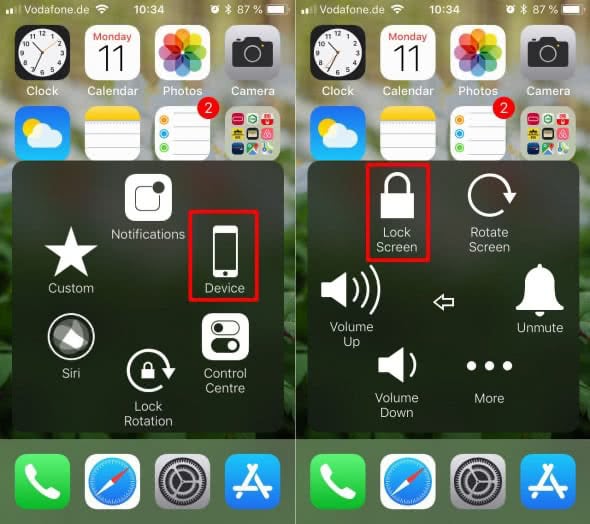 Taking a screenshot with a broken Power Button is possible with using AssistiveTouch. Learn how to take a screenshot with a broken buttons here.
Start iPhone without Power Button
Note that you may require a USB cable and a power adaptor or computer to switch the iPhone back on after shutting it down. This might sound like a hassle, but you'll get used to it pretty quickly. After doing this a couple of times, the procedure will become second nature to you.