How to Use Bold, Italic and Strikethrough Text on WhatsApp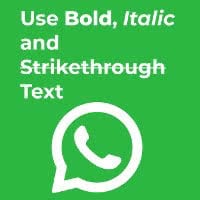 You can add bold font, italic font and strikethrough formatting to your text in WhatsApp. By using a simple trick, you can format the text in your WhatsApp messages quite easily to add some extra emphasis. Check out our tutorial on WhatsApp formatting and how to use bold, italic or strikethrough text in your WhatsApp messages.
WhatsApp text formatting: Bold, Italic & Strikethrough
Open the WhatsApp application on your iPhone, then start a chat with one of your contacts. To use WhatsApp text formatting in your message, use one of the special characters from the list below to add emphasis to one word or even a sequence of multiple words. This way you can produce WhatsApp italics or WhatsApp strikethrough text as well as WhatsApp bold text.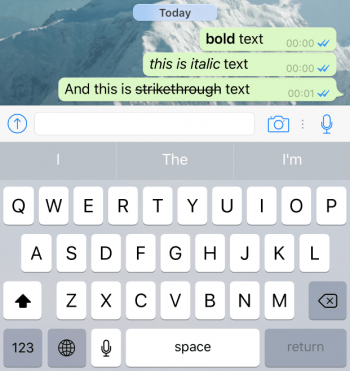 Add bold text by surrounding it with the * (star) symbol.
Example: "Make sure to *bring the tickets*."
Add italic text by surrounding it with the _ (underline) symbol.
Example: "It is _not really_ necessary to print all of the pages."
Add strikethrough text by surrounding it with the ~ (tilde) symbol.
Example: "Your cooking skills are ~quite impeccable~ absolutely horrible."
You can also combine any formatting mentioned above to use two or all three formatting options at the same time. Like WhatsApp bold and italic text.
Example: "I feel the need to scream at the top of my lungs."
The message window displays a preview of these shorthand notations for the different WhatsApp formatting but will also show the symbols used for formatting. Once you send the message, the symbols will no longer be visable and just show the formatted text.
Here's how to type much faster on your iPhone!
How to underline in WhatsApp
If you have been asking yourself: "Can you underline in WhatsApp?" The answer is -sort of. Underlined text in WhatsApp refers to an existing link to either a website or another app on your iPhone and the underline feature is automatic. WhatsApp also underlines text like addresses, dates and phone numbers. These link to Apple Maps, your Calendar app and your Phone app.
These links are supposed to help users find places on Apple Maps, call phone numbers or add them to your contacts, as well as add dates to your calendar.
Since this feature is automatic, we can not provide a tutorial on how to underline text in WhatsApp as there is no trick to underline in WhatsApp so far.
Tip: You use WhatsApp a lot? Even expert users can still learn a few handy tricks, so we put together a list of 10 WhatsApp tricks every user should know. Check out the article and learn something new!