How To Fix Constant Apple ID Verification Password Popups on iPhone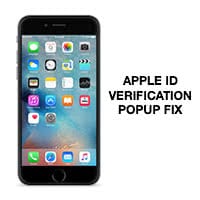 From time to time your "Apple ID Verification" keeps popping up, asking you to enter your password. This can be a confusing experience when you are unsure of the cause of the issue and your iPhone keeps asking you to verify your Apple ID repeatedly. In our troubleshooting guide we explain how to stop the Apple ID verification popup and fix the issues with Apple ID.
If your Apple ID verification keeps popping up for no apparent reason you cannot sign into your iCloud account. The problem can usually be fixed with a software update or resetting your iCloud settings and information.
Update iOS

Settings → General → Software Updates

First of all, check if you have an iOS update available by going to the "Settings" then to "General" and afterwards "Software Updates". This might already fix the issue for you. If not, keep on reading.
Apple ID Verification: What you can do about it
If you see a message on your Home or Lock Screen that you need to re-enter your Apple ID password in the settings, you should try that first. Tap Settings and enter your Apple ID password.
If the login fails, you should perform the following steps in order.
1. Log out of iCloud

Settings → [your Name] → Sign Out

Log out of your iCloud account on all connected devices. Simply go to the Settings app in iOS and tap on [your Name], then scroll down and select Sign Out. Repeat this on all mobile Apple devices you own.

On your Mac, if you have one, go to System Preferences and click iCloud, then signout of your iCloud account on that machine as well. Repeat for any additional Mac desktops or notebooks. Make sure that none of your devices are logged in.
2. Unlink/delete devices from your Apple ID
Next, go to the following web address and log in using your Apple ID, then check out the list of Devices and View Details for each of them.
On this page you can see on which devices you are logged in with your Apple-ID. Remove them from your account until no devices are left. If you are using Two-Factor-Authentication, you will have to perform additional steps to confirm your identity.
3. Log in to your iCloud account
Now you can log back into your iCloud account on all of your Apple devices (Settings → Sign in to your iPhone). The error message should be gone now and hopefully stay gone.
If the above steps did not work for you, it is time to request a fresh password for your Apple ID, which you can also get on https://appleid.apple.com/, where you can click Security and change your password from there.
Afterwards you should repeat steps 1 to 3, i.e. first log out everywhere, delete any devices and then log in again.