Using Sonos Speaker as Alarm Clock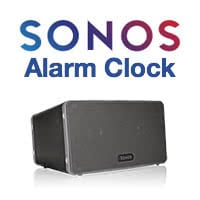 The smart speaker systems by Sonos do not only serve as a music playback device, but can also be used as a powerful and high-fidelity alarm clock. Sonos customers can download a free app and use their Sonos speaker as an alarm clock with their favorite music. This is how it works in practice…
Download the "Sonos Controller" app
If you want to control your Sonos sound system with your iPhone, simply open up the App Store and download the free app, aptly named "Sonos Controller", to your iOS device. Upon first launch of the app, you can set up your Sonos speaker from within the app.
Setting a Sonos alarm clock
To set a time for your alarm and pick the appropriate tune for getting out of bed in the morning, tap the menu icon in the Sonos Controller app and select Alarms from the list of menu items.
Then select New Alarm to create a new custom alarm including the time, room, music, desired frequency/repetition and volume. Once you are happy with the settings, select Save in the top right of the screen.
Sonos does not currently offer a smart alarm that adapts to your sleep cycles.