Smart New Uses for Your Old iPhone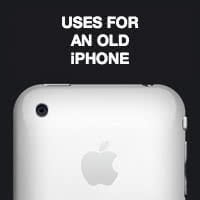 If you don't plan to sell your old iPhone but at the same time want to keep using it for some task, other than being your main device, this article is for you. Here are some great uses for your old iPhone, as we will discuss what you can do with older devices. An iPhone is practically a quality pocket computer that will last you many years, but most people tend to upgrade frequently to get the newest design and feature benefits.
Sell or trade in your old iPhone
First of all: As an iPhone is a relatively stable investment in terms of price depreciation and durability, you should consider selling your iPhone or trading it in for store credit. There are a number of companies who specialize in dealing with older devices and they will probably get an attractive price for you, which you can then reinvest into a new iPhone at some point when the upgrade is due.
If you plan to sell your iPhone, we suggest preparing your iPhone for repair and wipe it clean of any personally identifiable information.
Using your iPhone as a remote control
Instead of letting your old iPhone collect dust or be forgotten in a drawer, how about using it as a remote control? There are a bunch of apps that allow you to use the iPhone as a game controller or VLC remote, Apple TV remote and more. You can even play old-school retro games with your iPhone as the game controller. There's also the option of controlling iTunes via an iPhone remote.
Using an old iPhone as an MP3 player
Even older models such as the iPhone 3GS are suitable to use as an MP3 player or internet radio device. The hardware is definitely capable of pulling this off and you can buy a cheap 30-pin docking station on eBay or other sales platforms to add a speaker to your device.
In combination with streaming services such as Spotify or Apple Music, you can even upgrade your library independently of the storage your old device offers.
Streaming videos to TV using an old iPhone
Another great use case for your old iPhone is to use it as a dedicated streaming device for your TV. Using a video-out cable or AirPlay (possible with iPhone 4 and later), you can transmit video directly to your television and watch Netflix or locally stored media, or perhaps YouTube videos on the big screen.
Using your old iPhone as a dedicated alarm clock
This might be the most expensive alarm clock, but it's a great idea for people who wish to restrict their smartphone use to all rooms apart from the bedroom. Simply set up the Clock app on your old iPhone and use it exclusively for waking you up. When connecting a 30-pin docking station with integrated speakers, you get great audio for music output in the morning hours.
iPhone as surveillance camera
The iPhone features a camera that is typically suitable for surveillance use. Want to keep an eye on your child or a room while you are not present? Simply set up your iPhone with a mount and you have a great cloud-connected surveillance camera, provided you have easy access to electricity for the power supply at the given location.
Using an iPhone as a fitness tracker
To track your mountain biking routes or jogging runs, an old iPhone might even be preferable to the latest model for the simple reason of possible accidents, water damage and other mishaps. Using apps such as Runtastic or others allows you to keep track of all sorts of metrics. We recommend using the iPhone 3GS or later so that apps can access the digital compass feature.