Remove Default Apps from iPhone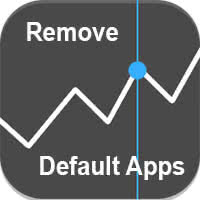 For many years, users could not uninstall the preinstalled (and sometimes annoying) iPhone apps. That's because Apple simply did not allow to delete standard iPhone apps. But for some time now, it is possible to completely remove preinstalled apps. Learn more about how to remove preinstalled apps and how to get back deleted apps.
Default apps that can be removed
Most of the default apps that are preinstalled on your iPhone can now be removed completely. It also means that linked user data and configuration files will be lost as well. At the same time you will gain storage space, although all of the following apps take only 150 MB in total according to Apple. So this is not a trick to free up memory space but rather to get rid of those annoying unused app icons on your Homescreen.
You can remove the following apps:
Calculator
Calendar
Compass
Contacts
FaceTime
Find Friends
Home
iBooks
iCloud Drive
iTunes Store
Mail
Maps
Music
News
Notes
Podcasts
Reminders
Stocks
Tips
Videos
Voice Memos
Watch
Weather
Removing default apps
There is no difference between removing preinstalled apps and removing other downloaded apps from the App Store.
Here is what you do:
Press and hold a random app icon on your Home screen until all icons start to wiggle.
Tap the on the litte X in the upper left corner of the default app that you want to remove.
You have to confirm that you are really sure you want to remove that app by tapping "Delete".
Press the Home button (iPhone 8 and older) or move your finger across the screen from bottom to top (iPhone X or newer) to return to the normal display.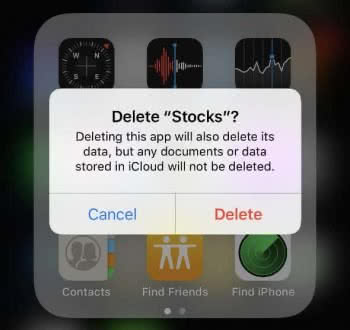 Reinstall deleted default apps
To reinstall a deleted default app, you have to open the App Store and type in the name of the app into the search box. Then download the app again by tapping the cloud icon on the far right.