How To Manually Add Health Data To The Health App
If you are wearing an Apple Watch or a similar gadget on your wrist, it connects to the Health app on your iPhone, so that your Health data will be recorded automatically. However, most people do not have a gadget, that measures the blood pressure or body temperature and enters it automatically into your iPhone. You can measure and add these health data manually though
Adding health data manually
Open the Health App on your iPhone. If you have used an Apple Watch that records health data automatically, you may have stored it in a folder, so that you have to search, or use the Spotlight search.
Once you have found and opened it, go to the "Health Data" tab at the bottom left. Now it depends on the data you want to add, e.g. Vitals.
If you have not yet added any Vitals, all four categories (blood pressure, body temperature, heart rate, respiratory rate) are shown as "No recorded data".
Tap e.g. "Blood Pressure" and you will get to the details page.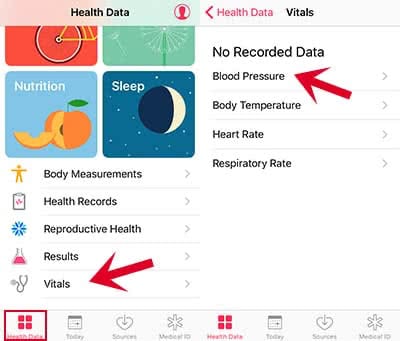 Click the plus icon at the right top corner to add your data. Now type in your systolic (first) and diastolic (second) value into the related fields and tap the "Add" button at the right top corner.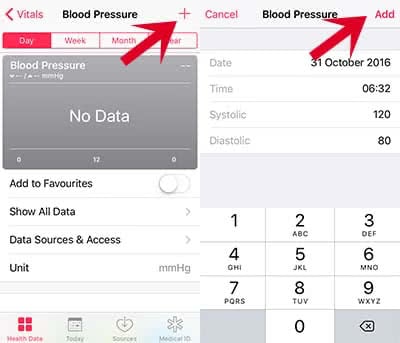 Adding data to Favorites
On the details page of each category, you can add certain data to your Favorites, so that they will be shown on your daily record. For setting this up, click the button next to "Add to Favorites".
For example: You add the blood pressure to your Favorites and it will be displayed in your "Day" tab.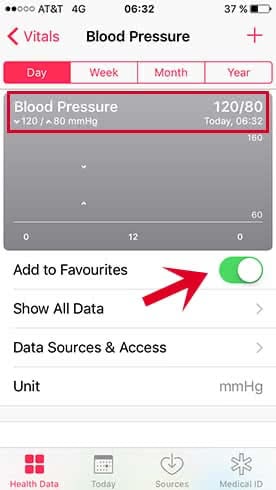 Want to know more about Apple Health? Learn more about 6 Apple Health Tricks you should know