How To Prevent Others From Reading Your WhatsApp Messages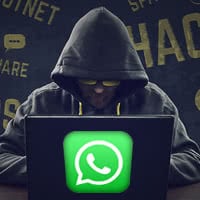 Do you know the unpleasant feeling, when you are typing a message and somebody looks over your shoulder to read it? Something similar – or even worse – can happen to you in WhatsApp. If you are not paying attention for a second, it is possible that somebody manipulates your WhatsApp. Then the person can read all your WhatsApp messages on his/her smartphone from home. We want to show you, how you can protect against others reading your WhatsApp messages.
Find out, if others read your WhatsApp messages
Open WhatsApp on your iPhone and tap "Settings" in the bottom right corner. On the settings screen open the option "WhatsApp Web/Desktop".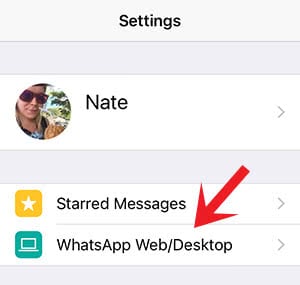 This option usually is for using WhatApp on a PC or Mac. This way someone can track WhatsApp messages of others.
How to read the WhatsApp messages of others
If a person scans your WhatsApp Web QR-code with their iPhone, this feature could be misused and the person can see your WhatsApp messages. So check on this screen to see, which devices are connected to your WhatsApp account. Generally you only see the active connections (besides your iPhone), in case you are using WhatsApp on another device, e.g. PC, Mac or another iOS device.
How to logout from WhatsApp on other devices
You can disconnect WhatsApp connections with other devices by swiping it to the left and tapping "Log out".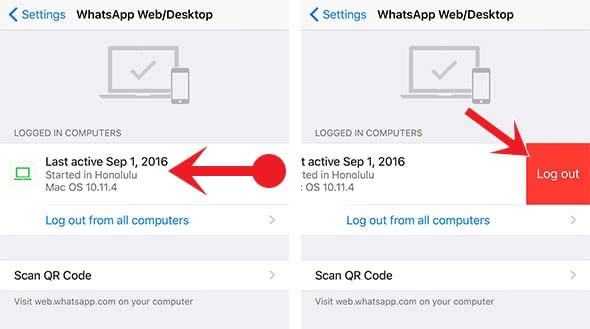 You can also disable WhatsApp Web connections to other devices at once by choosing "Log out from all computers". If you have any doubt, we recommend using this option to play safe. Then you can connect your device again.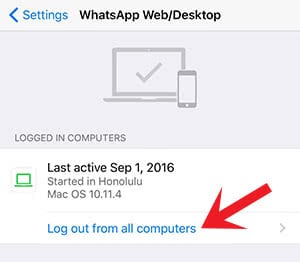 You can protect your privacy and defend yourself against unauthorized readers with this trick. If you are concerned about your Privacy Settings you should also check your Facebook Privacy Settings. Learn more about Facebook Privacy Settings here.