Find Friends – Get Notifications, When Friends Leave Or Arrive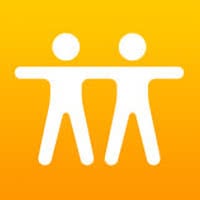 The Find Friends app is probably one of the apps, that you deleted right away, when Apple allowed to delete default apps for the first time. Although it has some real cool features – like notifications, when friends leave or arrive at a location.
Install "Find Friends"
First you need the Apple app Find Friends for this trick. Otherwise you can download it for free from the App Store. Just search for Find Friends and install the app.
Get a notification about the location of friends
Find Friends > Contact > Notify Me

You can set up in the Find Friends app, that you want to get notified, when a contact leaves a location and arrives somewhere – obviously only with his/her approval.

Open the Find Friends app on your iPhone for this. Choose a contact from the list below the map or add one (if you are using it the first time).

In the contact's details click Notify Me in the middle of the top menu bar. You will be directed to a screen, where you can request notifications about this contact.

You can tap the options Leaves or Arrives, depending on which notifications you want to get.

Below these options you will see the current location of your contact and your own (as long as it could be determined). You can choose one of these locations by tapping it. Another option would be to enter another address for the location notification by clicking Other.

Confirm your settings by tapping Done in the top right corner.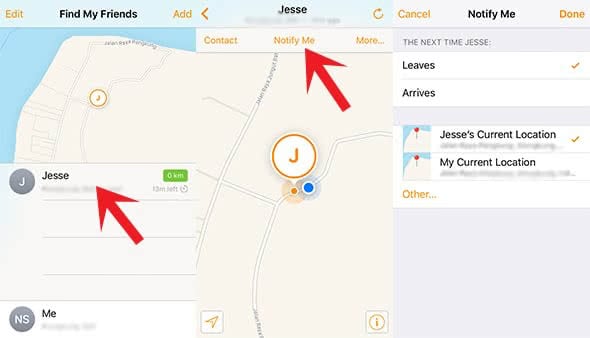 Your iPhone will inform you as soon as the contact arrives at the location or leaves it.
Send notifications about your location to friends
Find Friends app > Contact > More > Notify contact
You can also make it the other way around. You can send your location to your friend, so that the contact gets a notification, when you arrive or leave.
Tap More in the details view of the contact. Then choose Notify contact.
There you can choose again, if you want to send the notification when you leave (When I leave) or when you arrive (When I arrive). In addition you can set up a repeat.
Confirm with clicking Done.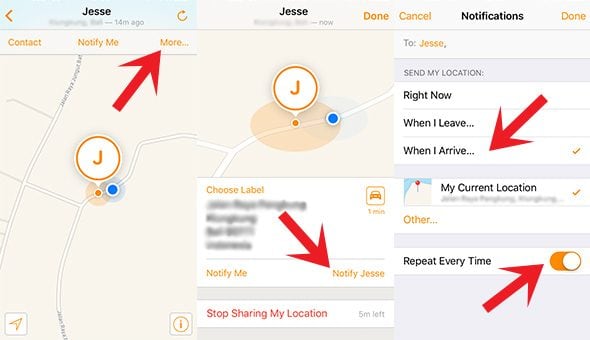 "Find Friends" in App Store