How To Get More Storage On iPhone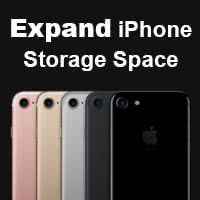 The decision for a certain iPhone model should be made wisely. Especially when it comes to storage space, you should really consider how much GB you will need. You cannot expand your memory by using a SD card like other smartphones do. If you are running short on storage space, you can try to free up some memory. If this is not enough, you can also expand your iPhone storage space with accessory. We show you how…
RAVPower iPhone flash drive
The RAVPower flash drive is a convenient way to increase the storage space on your iPhone.
To use this memory stick as an additional storage, you will need the free iPhone app called iPlugmate. You can directly display and play all content from this memory stick on your iPhone by using iPlugmate. This way you can save memory on your iPhone, but still having the convenience of watching large movies on your iPhone or show your latest photos to your friends.
The RAVPower iPhone flash drive has a memory of 64 GB and a USB 3.0 port. The reading rate is 80 MB/s and the transmission rate is 30 MB/s. On the one side of the memory stick you have an USB adapter to connect it to a laptop and on the other side is a Lightning adapter to connect it to your iPhone.
You can also charge your iPhone via the RAVPower iPhone flash drive. The memory stick is functioning like a normal USB thumb drive. So the data can be saved directly. Hence, you can carry i.e. full-HD movies without having them on your iPhone. You just need to plug in the flash drive into the iPhone, open iPlugmate and off you go!
Order the RAVPower iPhone Flash Drive on Amazon!
Lexar microSD to Lightning reader
This way is a little more flexible, because it is a simple microSD card reader. With this memory extension you can expand your iPhone storage space by any amount of gigabytes. It just depends on what SD card size you insert.
Thanks go to our reader Michael for this tip.
Lexar's reader can only be used with the free app Lexar Mobile Manager. You can swap content like photos, music, videos and other files between an iPhone, iPad and computer with this microSD reader. In addition you can of course play or display content – just like the flash drive.
Order the Lexar microSD to Lightning reader on Amazon!
As described above you can adjust the storage space to your own needs. SD cards are available in different sizes and in the meanwhile they also got cheaper. You can already get for example a 64GB microSD for around $20.
Order the SanDisk microSD card on Amazon!
Want to know more about freeing up iPhone storage with the help of SD cards? Read more on using SD cards to free up storage space on your iPhone.
Mophie Spacepack case
Another option to expand the storage space on your iPhone is an iPhone case with an integrated battery and memory. Mophie offers extension cases for iPhone 5/5s, iPhone 6/6s and iPhone 6/6s Plus at the moment.
Mophies Spacepack cases have a memory of up to 64 GB. The extra battery can be activated by the button on the back of the case. This way you can double the battery life of your iPhone, which can be convenient when you want to watch a movie.
This product also needs an own app in order to access the files. The app Mophie Space is available for free in the App Store. All content can be played via this app as well.
Order the Mophie Spacepack case for iPhone 5/5s/SE on Amazon!
Order the Mophie Spacepack case for iPhone 6/6s on Amazon!
Order the Mophie Spacepack case for iPhone 6/6s Plus on Amazon!
If you prefer to use the storage space available on your iPhone, learn how to get the most of your iPhone storage space.