Top 8 Instagram Hacks That Everyone Should Know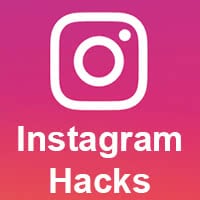 Every update brings a new feature to Instagram that you have to discover. There have been added a lot of useful features recently, which increase the Instagram experience greatly. The option to hide comments or advertisement is just one of them. In this trick we show you the Top 8 Instagram Hacks that everyone should know.
Turn on notifications
Since Instagram changed its algorithm, so that posts are not sorted chronologically anymore, but by relevance, lots of posts are not shown in the feed anymore. If you don't want to miss a picture of your friends, you can turn on the notifications. Open a profile, which you want to follow, and click the three dots in the right top corner. In the pop-up menu you choose Turn on Post Notifications, so that you get a push notification every time the account posts something. You can obviously turn off the notifications for this account in the same menu.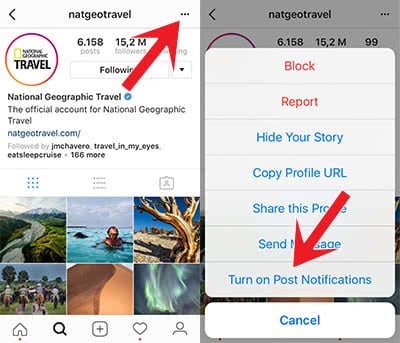 Sort and manage filter
Everybody has a favorite filter on Instagram. If you don't want to search for it every time before you upload a new photo, you can sort and delete the filters. As soon as you tap on a filter in the edit window, it can be moved in the chain or removed from the bar. If you have deleted a filter on accident and you want it back, you can add it in the same window. Scroll through the filter bar all the way to the right and choose Manage. There you will find all filters, which you can activate or deactivate.
Deactivate comments
Instagram implemented the feature to deactivate the comments to protect their users against negative comments and insults. You can use this feature in the last step before posting a picture. It is hidden behind the Advanced Settings at the bottom. The global setting for past and future posts hasn't been added yet, so that you have to edit this in every single picture. Just go to a picture in your feed, click the three dots and you will see the option in the pop-up menu.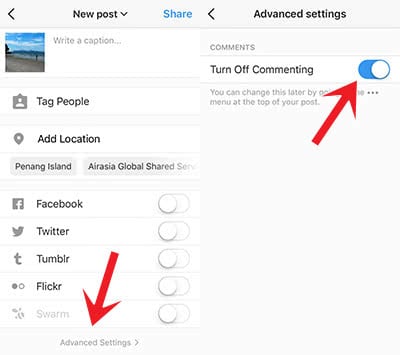 Hide tagged photos in profile
Privacy is a big topic in Instagram. If you don't want that the image service shows photos, in which you have tagged in, you can hide them in your profile. Go to your profile and tap the second icon from the right, so that you see all pictures that you have tagged in. Click the three dots again and you will see that you can change the Tagging Options and Hide Photos. If you want to select certain photos to hide, choose Hide Photos and select the photo(s). The Tagging Options enable you to decide, if a tagged photo is shared ("Add Manually") or not. If you activate this option, you will get a notification about a tag and you can decide, if everyone can see it or not.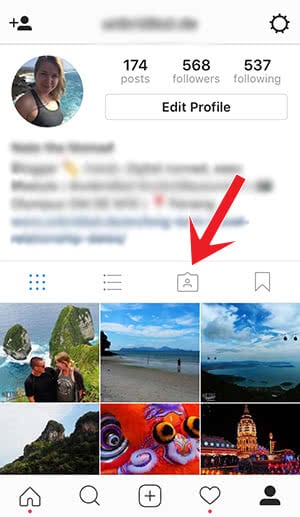 Another important feature is adding geotags that are shown above the photos. You can remove them afterwards like the tagged pictures. Open the specific picture and click the three dots. Choose "Edit" in the pop-up menu and tap the location. Then you can either remove the location or change it.
If you are looking for more related tricks to protect your privacy in Instagram, read our article "Instagram – How To Protect Your Privacy Better".
Display posts that you like
You can easily loose the overview of your liked pictures in Instagram. If you are looking for a specific picture that you have liked already, you can display it by using a little trick. Go to your profile and click the cogwheel in the right top corner. Click "Posts that you've like" in this list to see the last 300 pictures that you have given love to.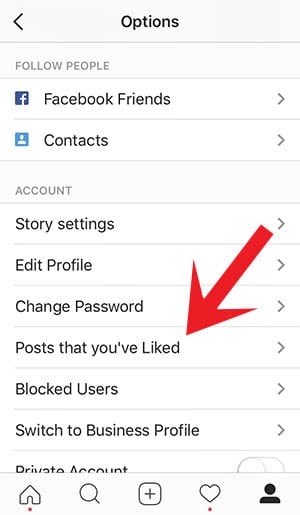 Display saved posts
Instagram has added the Saved feature to not loose important or especially amazing posts. With this feature you can save your favorite posts for later. In order to add a post to your Saved list, tap the bookmark button below the picture. The photo will be shown on your profile, when you click the bookmark button.
Hide ads
Sponsored posts are a core element in the Instagram feed. If you always see the same annoying ad, you can get active and hide it in Instagram. Click the three dots of the sponsored post and "Hide This". Then Instagram wants know, why you don't want to see this ad anymore. You can choose one of the three options that they provide: "It's not relevant", "I see it too often" or "It's inappropriate". Once you have chosen one, this sponsored post will never be displayed again.