How to "Find My iPhone" with iCloud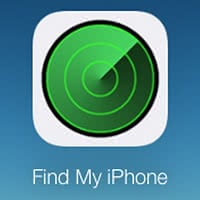 This is a guide on how to turn on "Find My iPhone" and track your iPhone in case of theft, loss or when misplaced. Thanks to the technological advances of the last decades, we finally have the tools to find out where we left our phones, now if we only could do that with our keys. By enabling the "Find My iPhone" feature, you'll be able to find a lost iPhone. There is even an option to lock it down and delete all personal data from a remote location.
Benefits of "Find My iPhone"
Without having "Find My iPhone" turned on, your chances at getting back a lost device are probably slim to none. The black market for stolen smartphones is active and growing. Few people will return a phone to its rightful owner, when found in a public setting.
With "Find My iPhone" enabled, you can lock your screen, display a message on the lock screen, get notified of your iPhone's location and keep tracking the device. This can be done from a browser, Mac or another iDevice, like an iPad. You can even leave a number to call so that the finder may return it to you. By the way, it is always a good idea to offer some kind of reward as an incentive.
This is what tracking a lost device using "Find My iPhone" looks like:
How to enable "Find My iPhone"

Settings → iCloud → Find My iPhone

To find a lost iPhone later on, one needs to take preparations. Head over to your "Settings" app. Tap "iCloud", then "Find my iPhone". If the upper one of the two toggles is set to active, your iPhone is currently trackable.

If you choose to activate the second toggle, your iPhone will transmit its location to Apple as soon as the battery is at a low level. This works as an extra layer of protection and allows you to find the phone once the battery runs dry, giving you at least a hint of where it was last.

No one will be able to turn off "Find My iPhone" without your iCloud credentials. Be sure to keep them safe, as they allow you to lock down the device and keep strangers from accessing any of your data.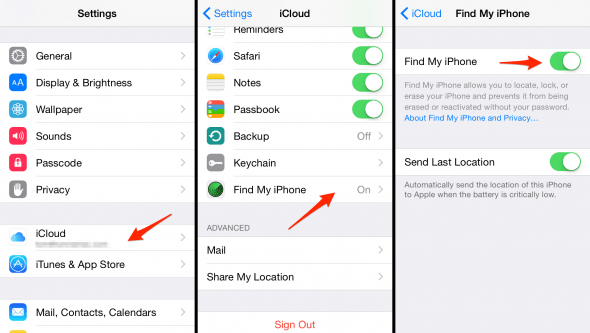 Tip: Did you know that you can locate your iPhone even when it's turned off?
How to track an iPhone using "Find My iPhone"

iCloud.com → Find My iPhone

You can either use the find my iPhone app on your other iDevice, or open up iCloud.com on your Mac or Windows PC in a modern web browser such as Safari or Google Chrome. The iCloud website lets you log into your account and access a web-based version of the tracking app.

Your iCloud credentials are needed for accessing these features.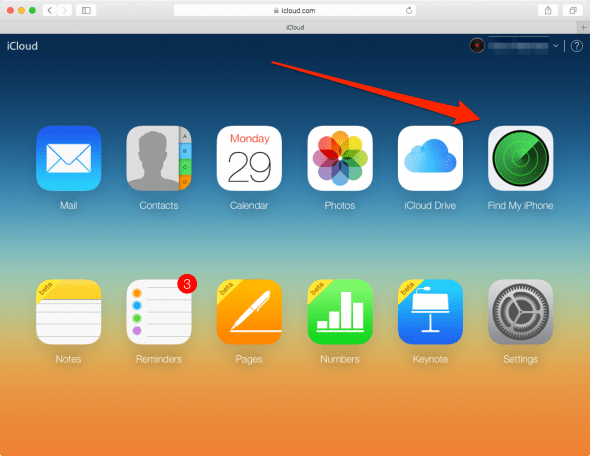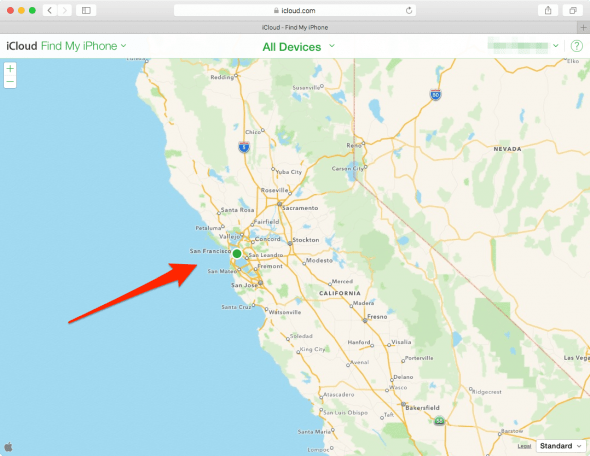 After a quick search, your iPhone will be tracked and displayed as a green dot on a zoomable map. You will be able to see the battery charge level, play a sound to locate the phone if it is nearby and put it into lost mode – or even erase its contents via the remote access.
Putting the device into lost mode allows you to set a four-digit passcode to protect your data. The automatic activation lock prohibits anyone from restoring, erasing or reactivating your device.