WhatsApp: Create Chat Backup & Restore Chats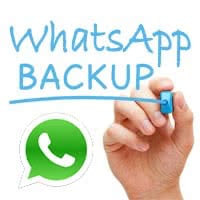 The easiest way to make sure your WhatsApp chats are safe and secure is a backup. With a backup you will still be able to access your chats even if you get a new phone or have to restore your iPhone to its factory settings. You will learn everything you need to create a backup of your WhatsApp chats with all associated settings. In addition, we will show you how to restore the WhatsApp chats from a backup.
Required: iCloud Drive
For this trick, we need iCloud Drive. Check, if this service is activated yet. Open your "Settings" and tap on "Apple ID, iCloud, iTunes & App Store". Now tap on "iCloud" and swipe down to "iCLoud Drive". "iCloud Drive" has to be activated on this level.
Create chat backup in WhatsApp

Tip: Your WhatsApp Chats will be saved in an iCloud backup or iTunes backup of your iPhone. Therefore, your chats should be restored from a backup. So the following trick is useful if you deleted particular chats or messages that you want back without restoring your whole iPhone.

WhatsApp → Settings → Chats → Chat Backup

WhatsApp allows saving your chat histories and media in iCloud – without third-party software. To create a chat backup, open "WhatsApp" on your iPhone and tap the "Settings" icon (cogwheel) at the bottom. Then go to "Chats" and on the next level to "Chat Backup".
Now you have two choices: You can either create a manual backup or an automatic backup.
Create manual backup
To create a manual backup, tap "Back Up Now" on the level "Chat Backup". Depending on a number of chats and the size of the data, including media, it can take a few minutes to save the manual backup.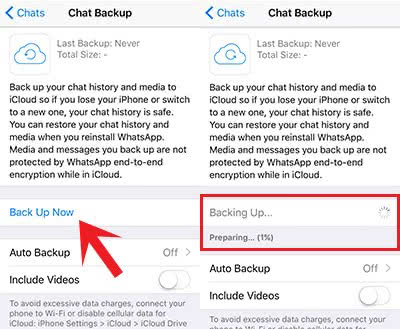 Activate automatic backup
Setting up the automatic backup for your WhatsApp chats is far more useful and convenient than the manual backup. Open the "Chat Backup" level again and click the option "Automatic Backup".
On this screen, you can choose the schedule of the automatic backups for your WhatsApp chats: "Daily, Weekly, Monthly" and "Off". Choose one of the first three options to activate the automatic backups. Then you can go back to the previous level by tapping the top left corner.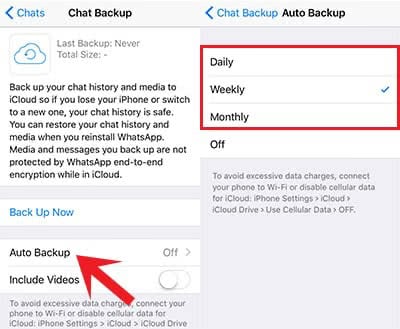 By default, automatic backups don't save videos, which you have received or sent via WhatsApp. You can change it by activating the option "Include Videos" at the bottom of the "Chat Backup" level. This will obviously change the size of your backup.
Restore WhatsApp chats from backup
You just have to delete your WhatsApp from your phone in order to restore your chats. Then reinstall it. When you open the app, WhatsApp will ask you, if you would like to restore the chats from your backup. Confirm this by clicking the "Restore" button.