Hide Instagram Stories & Restrict Replies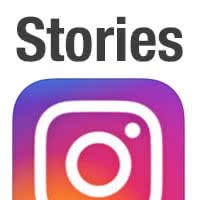 Instagram Stories are a nice way to share your personal life with other people without constantly posting photos that stay on your feed. Stories are photos and videos that automatically disappear after 24 hours. People, who have many followers, can face the issue that a vast amount of people can see these rather private photos and videos. If this causes uncomfortable problems, you can decide who can see and reply to your Instagram Stories.
Hide Instagram Stories & Restrict Responses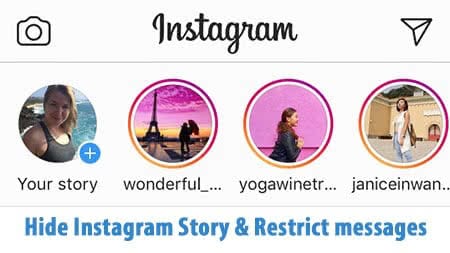 Instagram > Profile > Options > Story Settings

Open Instagram on your iPhone and tap the profile icon at the bottom right to get to your account. Then click the settings icon (wheel) in the top right corner.

Now you are in the Options of your profile. Open the Story settings under the section Account.

Hide Instagram Stories
One option to handle the issue is to hide your Instagram Stories from certain people. By the way, you currently cannot turn off Instagram Stories completely. Tap Hide story from and you will see a list of all your followers.
Select the followers, who you want to hide your stories from in future. Confirm your selection by clicking Done.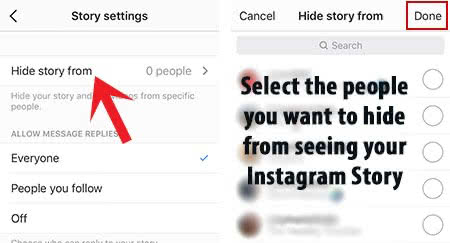 This setting affects your Instagram Stories and Live Videos. The users that you select in this list will also have no possibility to respond to them.
Restrict replies to stories
In addition, you can restrict people from responding to your stories via messages. The section below is called Allow Message Replies and you can completely turn off this feature or select People you follow.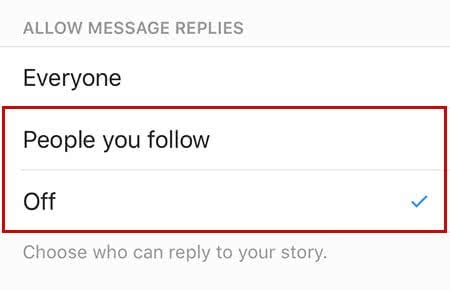 This option has no impact on the visibility of your stories. If you want to restrict this, you will have to add people to the Hide story from section (read above).
Protect your privacy on Instagram more
If you are looking for more tips to protect your privacy on instagram, we collected some tricks in a different article. You can learn how you can hide your location, how to use a private profile, and much more.