AirPods Lost Or Misplaced? Use The "Find iPhone" Feature!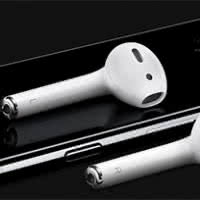 Since the iOS update to version 10.3, you can search for your AirPods with the feature "Find My iPhone". We explain in this article how you can relocate your headset in case you lost or misplaced it! The only thing you have to take care of is that your AirPods are within reach of your paired iOS device because they don't have an own internet connection.
Find your AirPods – Here is how to do it!
The search feature works via a personal iCloud account that is connected to your Apple account. Your AirPods are automatically connected to your iCloud and other devices with the first setup. The alternative way is to connect other's AirPods with your iPhone via Bluetooth. This is handy when you are looking for your friend's headset. This also means that this trick will not just work on the iPhone 7, for which the AirPods were created. You can use this trick with any iPhone model that has installed iOS 10.3.
Make sure that the AirPods are not in the associated charging box or that the charging box isn't open, because the "finding your AirPods" feature doesn't work if that's the case.
1. Open "Find iPhone"
First, open the app "Find iPhone" on your smartphone. You will see all your iOS devices (including the AirPods) and Macs on this list. In addition, you will see an interactive map that displays the location of the specific device. The blue dot shows the device that you are currently using for this app. You will also find the location of your AirPods on this map, but only if they are online and within reach. These are labeled with a green dot. You will also find out how far away this device is from you.
This feature is especially helpful when you are moving with your iPhone to find your AirPods. This way you can find out if you are moving closer or farther away from the headsets because the map will update your location.
2. Search AirPods
Tap the AirPods in the list to search them. The map zooms in to show you where exactly the headset is. Click Actions at the bottom to find the AirPods by using a sound.
3. Play sound on AirPods
After choosing Actions, you can play a sound on your AirPods, which makes it easier to find them. Click Play Sound to do so. You can even choose on which of the earbuds you want to play the sound. Click either Mute Left or Mute Right. This can be helpful when you are missing only one earbud.