How To Delete Double Contacts On iPhone
You may know the situation when a friend gets a new phone number and you save it as a new contact instead of replacing the old number with the new one. So you will have this person as two (or even more) contacts on your iPhone. One day you want to call the person and you have no clue, which number is the current one. We have an easy trick for you to keep an overview of your iPhone contacts. It allows you to find the double contacts easily, merge them and delete the old number.
Phone Clean puts your contacts in order
It can happen that you accidentally saved one person multiple times to your iPhone contacts.
To put your contacts in order again, we present you a program that has a Contact Clean feature: Phone Clean. It will merge your double contacts. You will have to follow the steps below in order to use this trick on your iPhone:
1. Download Phone Clean
First, you have to download the program Phone Clean to your PC or Mac and install it. The test version is for free otherwise it will cost $20 per year. So you have to decide on your own, if it would be worth to spend money on it or if the test version would be enough. For mocking out your contacts you will be fine with the test version. The fee-based Pro version offers more features, which helps you to remove unneeded data so that you can free up some storage on your iPhone.
2. Connect iPhone to computer
Before you start Phone Clean, connect your iPhone to your PC or Max via USB cord as usual.
3. Turn off contacts for iCloud
Before you merge your double contacts, you have to turn off the automatic synchronization of your contacts for iCloud: Open the Settings on your iPhone, click your name at the very top, and choose iCloud. Then you will see a list of apps, that synchronize with iCloud automatically. Tap the green slide button next to Contacts to turn this feature off.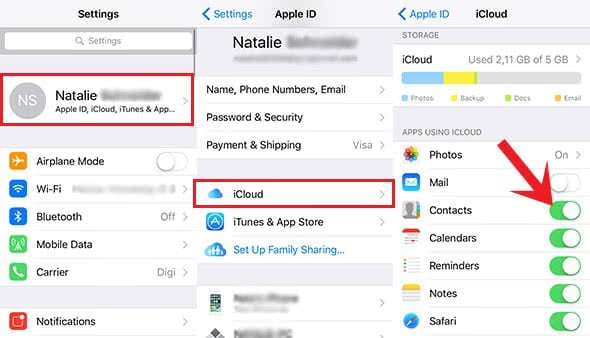 4. Choose ToolBox
Now open the Phone Clean program and choose the ToolBox from the top menu bar. It's the icon that looks like a briefcase.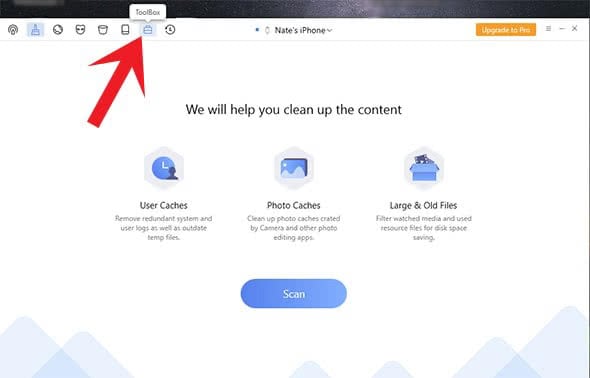 5. Using Contact Clean
To merge and delete the double contacts with Phone Clean, you have to click Contact Clean.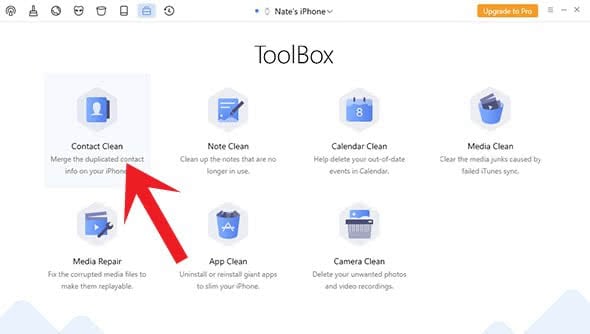 On the left-hand side, it will display the contacts that are currently double. On the right-hand side, you will see how it will look like once Contact Clean merged both contacts. It will save one phone number as "mobile" and the other one as "other".
The double contacts will be merged when you select them by clicking the little box on the left-hand side. Then click the arrow button in the right top corner to merge them.

6. Allow merging contacts
It should open a pop-up window that asks for permission to merge the chosen contacts. Click Yes, if your selection is correct.
Make sure that the program only merges contacts that belong together, because Phone Clean puts together all contacts that are listed under the same name. It can happen that you saved different people with the same first name and the program wants to merge them according to the same name.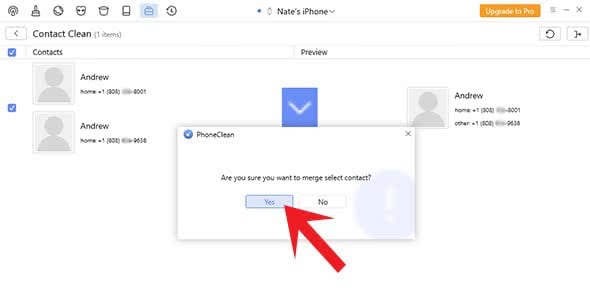 You may want to check your iPhone to see the result. You will see that the program merged the two contact entries to one, just as shown in the preview on Phone Clean. The two phone numbers are divided in mobile and other under one contact.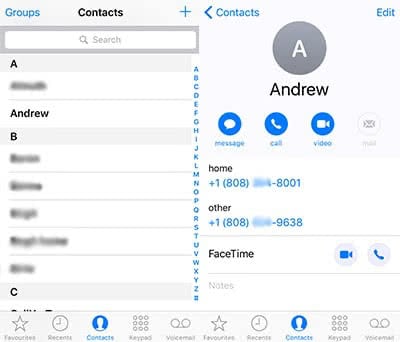 You can, of course, merge the contacts on your iPhone manually via the Contacts app. However, this would be more difficult than using the Phone Clean program, because after downloading there are only a few clicks to bring your contacts in order again.