How To Download Photos From Instagram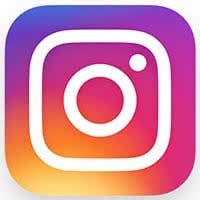 So far Instagram users were not able to save the post of others to the Photos app on their iPhones. The only way to save photos was taking screenshots. Now there is an easier way to download photos from Instagram and we show you this trick!
Easily save posts to the Photos app with Instagram ++
If you want to save a photo from another Instagram account to your iPhone, you need to install Instagram ++. Instagram ++ is a special version of Instagram that works with your normal Instagram account. In contrast to the conventional Instagram, you can use more features such as downloading posts of other accounts.
It doesn't matter how you got to the photo. You can either download photos from your news feed or directly from profiles. You could also save photos from the Discover section.
Instagram
The conventional Instagram app displays the following features below a photo/video post: You can like the photo via the heart icon, you can comment on it, send it via instant message, or save it as a bookmark to your Instagram profile. There is no download feature.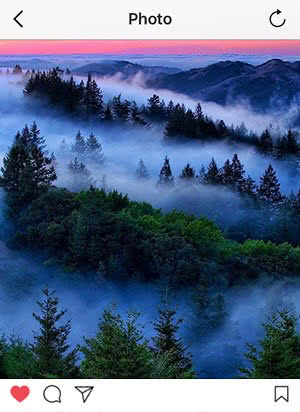 Instagram ++
Instagram ++ offers more options than the conventional Instagram: Besides the standard functions, you will see two more icons next to the bookmark icon. One of them is the download feature.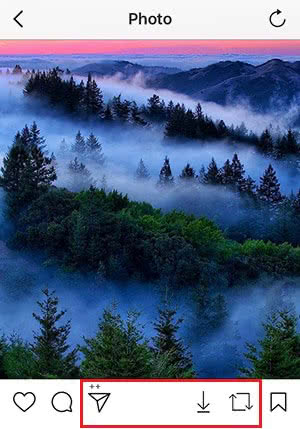 To download a photo, tap the downward arrow (download icon). Then choose, in which format you want to save the photo and the folder. The photo will now be downloaded and will appear in the Photos app on your iPhone.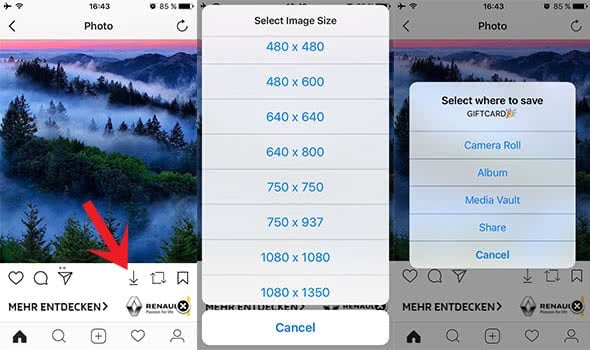 The alternative way is to click the sending arrow below the post. Then choose Download from the menu. You again have to select the image size and folder.