Instagram: Repost Faster Without An Additional App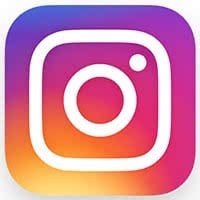 If you want to repost a photo of your friends or another account on Instagram, you would usually need an additional app called Repost for Instagram. In this article we show how you can repost pictures without this additional app. The only thing you need is the special version of the popular photo app – Instagram ++, which will allow to repost directly in the app!
Share photos directly with Instagram ++
In order to do it without the app Repost for Instagram in future and repost Instagram posts directly, you have to download the app Instagram ++ before.
Instagram ++ looks almost like the original Instagram app and you can still use your Instagram account. The difference between Instagram and Instagram ++ is the range of features. Instagram ++ has more features that the original app doesn't offer. Besides the integrated repost feature, you can also change the layout of the Home menu.
Open Instagram ++ like you do it with the normal app and go to any post of your choice. It doesn't matter if it is from your news feed, profile or wherever you found it. Now click the arrow on the left below the photo. You will have many different options, including to send the photo as an instant message to your friends.
Before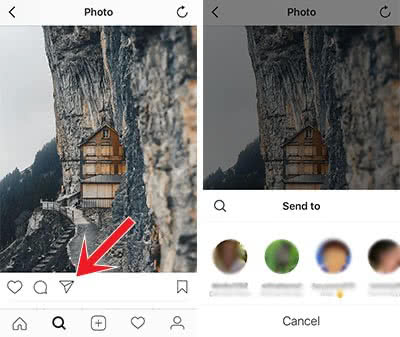 This would be in the original app. Instagram ++ will give you 4 options, though: Download, ReGram, Share with ++ and Share with Instagram. The last option is just the feature of the normal Instagram app – sending the photo to friends.
After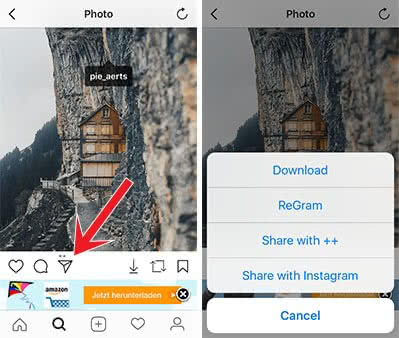 If you want to repost an Instagram post, you have to choose ReGram on Instagram ++. It will instantly show the photo as a new photo posting that you can edit and add a caption as usual.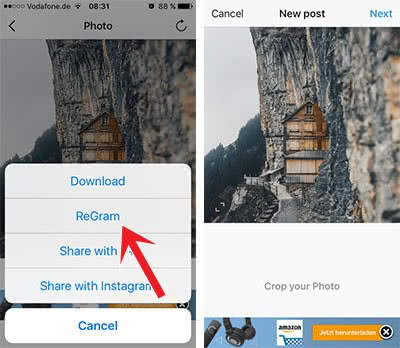 The advantage of this trick is that you can save the effort of reposting a photo via another app, thanks to Instagram ++. Instead, you can share the post on Instagram ++ without copying the URL and inserting it on Repost for Instagram. Besides, you will benefit from many other handy features on Instagram ++.