How to Change WhatsApp Phone Number on iPhone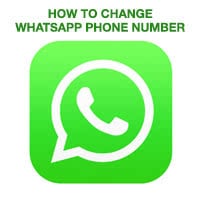 Pretty soon, SIM cards will be extinct and swapping your current phone plan will be as easy as installing a new app. But even today, people are getting new cell contracts while swapping their cell provider, which often comes with a new number. As you may know, WhatsApp usage is tied to a phone number for several reasons. Thus it makes sense to know how to change a WhatsApp phone number to continue usage on the new phone number.
Why does WhatsApp even require my number in the first place?
WhatsApp uses your regular GSM phone number to make sure that spammers can't abuse the platform for illicit advertising purposes. This is one of the major reasons you always have to provide a phone number when installing and activating WhatsApp. Of course the linking of a phone number is also useful for law enforcement purposes and the tracking of harassers or (potential) terrorists.
How to change WhatsApp number
WhatsApp → Settings → Account → Change Number → Next

To change the WhatsApp phone number associated with your account to a new one, you first have to make sure that the new number is able to receive SMS or calls. This is absolutely mandatory to be able to change the number, otherwise WhatsApp will not let you make the transition. Thus, if you have a new SIM card, this is the time to insert it into your iPhone and unlock it.

Then open up your WhatsApp application on your iPhone. Now head over to the "Settings" area at the bottom right. Next, tap "Account" and finally "Change Number". Follow the on-screen instructions, tap "Next" and enter your old and new phone numbers.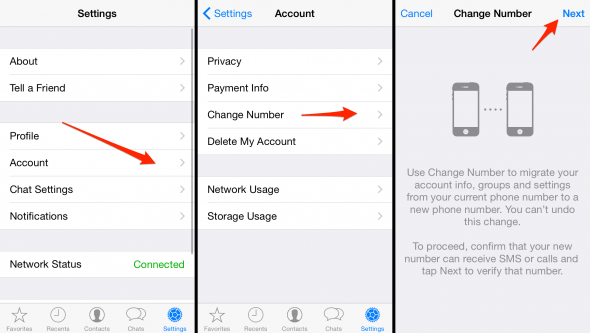 When you change your phone or SIM card you should create a WhatsApp backup so you can later restore your Chats. Learn how to backup WhatsApp and restore your Chats.
That's it, as you see it's quite easy to change your phone number and keep your WhatsApp account.