How To Add Repos/Sources to Cydia on Your iPhone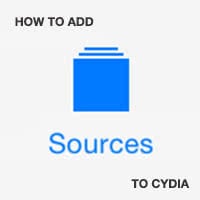 This is a guide on how to add a source to cydia. Adding cydia sources has gotten easier and easier with newer versions of the jailbreaker's alternative to the iTunes App Store. Cydia allows users of jailbroken iPhones to install all kinds of apps, tweaks and themes on their devices. Since Apple has not allowed theming or elaborate modifications to the interface and inner workings of the iPhone's operating system called iOS, cydia remains to be a very relevant topic for a certain percentage of users. Other users, however, have chosen to remove cydia and the accompanying jailbreak from their iPhone for security reasons.
Installing and searching for packages (apps or other content) works a little differently. Software is distributed via so-called repositories, which can be found in your list of sources. A number of repositories come pre-installed and host most of the popular packages. The oldest and biggest repositories come with your cydia installation:
BigBoss Repo: apt.thebigboss.org/repofiles/cydia
ModMyi Repo: apt.modmyi.com
iSpazio Repo: repo.ispazio.net
You can find all sorts of other repos by searching for "cydia repos" or "cydia sources" in your favorite search engine. Note that some of them contain unlicensed or copyright-infringing software, be sure to avoid those to stay clear of attacks on your device. Certain repositories are known to distribute harmful packages, the default ones (above) are pretty safe.
That said, some of the greatest cydia packages can only be obtained by adding the developer's source to your cydia app. Here's how you can achieve that, once you know the respective URL.
Add a source to cydia
Cydia > Sources > Edit > Add

Open up Cydia on your iPhone. Select the "Sources" tab at the bottom of the screen, then tap "Edit" at the top right. Now select "Add" and enter the source/repo URL into the field. Tap "Add Source" when done. This is all there is to it, for most cases. Cydia will now process the new source, which may take a minute or two.

Important hint: Most cydia sources begin with http:// but some will require https:// to work properly. Be sure to include one of those two prefixes when adding a source, they are absolutely mandatory.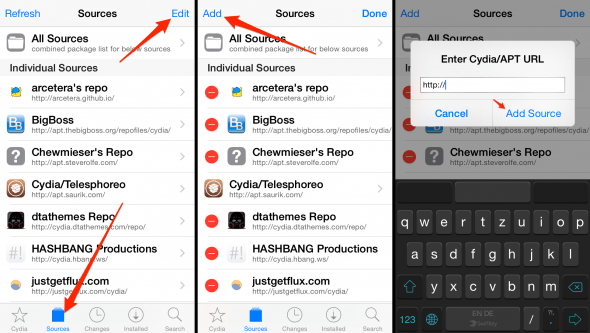 You can now browse the new source's contents by tapping its name in the "Sources" tab. When searching for a package via the "Search" tab, Cydia will automatically include the contents of the new repo in the results.