How to Delete WhatsApp Account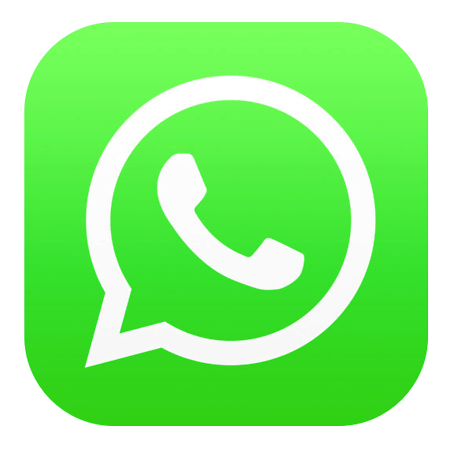 Now that privacy is a thing, many iPhone users are interested in how to delete WhatsApp (or more precise: how to delete WhatsApp account) and switch to another messenger app. Here's a guide that will show you how to get rid of your account and delete it as fully as possible. Simply removing the app from your iPhone will not disable the associated account, thus it is recommended to complete our guide from top to bottom. Finally, we will recommend a few alternatives that you can try out instead.
How to delete WhatsApp
WhatsApp → Settings → Account → Delete my Account

First, open WhatsApp on your iPhone. Tap the "Settings" icon at the bottom right, looking like a cogwheel. Now tap "Account" and afterwards "Delete my Account".
WhatsApp will ask you to enter your associated phone number and the corresponding country. Enter your details and hit "Delete my Account" to complete the procedure.
Consequences when you delete your WhatsApp account
Your WhatsApp account details, profile picture and chat histories stored on the device and WhatsApp backups in iCloud are removed. WhatsApp doesn't go into detail whether your chat history remains on their servers, which is kind of troubling from a privacy standpoint. Once deleted, your account will disappear from any WhatsApp groups that you are currently a part of.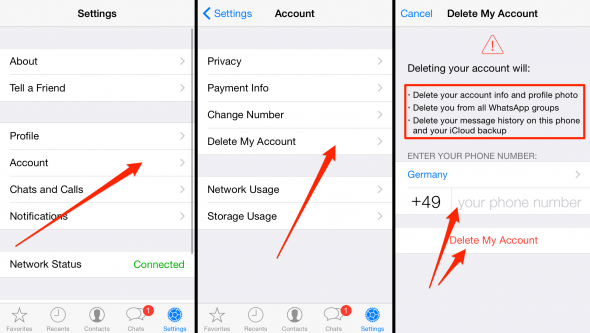 How to remove WhatsApp (the app)
Press and hold the WhatsApp icon on your iPhone Home Screen until it starts to wiggle. Now tap the small x-shaped symbol on the icon to delete the WHatsApp app from iPhone. Do this after deleting your account as explained above.
WhatsApp alternatives
Every other day, we hear from some sort of new messenger app that is the new kid on the block. Depending upon your contacts, you might go for "Threema" or "Viber", "Line" or "Joyn" or even Skype. Note that "Skype" is not really the best choice in terms of privacy and secrecy.