How To Close All Apps On iPhone At Once

Closing an app is useful when you encounter strange behaviour or bugs and want to start fresh with an app. It might come handy if you want to tidy up app switcher as well. Although there is no gesture to close all apps at once, you can still close several apps at the same time with this little trick.
How to close all apps at once on iPhone
There is no official function to close all apps at once. But on iPhones with a Home button (iPhone 8 and older) you can use a trick to put all apps into an inactive state at the same time. This way you can prevent apps from working in the background and loading the main memory.
Press and hold the Home button until the "slide to power off" slider appears.
Now press and hold the Home button until you return to the Home screen.
This trick does not make the apps disappear from the app switcher. But if you try to open them, they will start to reload. This shows that they are no longer active and do not use memory.

Keep in mind: Once backgrounded, an app is actually completely off, unless there is a problem. Even if you see it in the app switcher, it is usually just a benign screenshot that doesn't take up any system resources. The widespread assumption that closing all apps on iPhone results in better battery life is therefore untrue. Nevertheless, there are apps that continue to work in the background and collect data – such as navigation apps. In such cases the trick is quite useful.
How to close three apps at once
If you love to have a tidy app switcher, you can close several apps simultaneously with a simple gesture.
Go to the app switcher by pressing the Home button twice in a row (iPhone 8 and older) or swiping to the middle of the screen and holding your finger briefly on the display (iPhone X and newer).
Swipe to the left or right and navigate between the apps in the background. You can now close the apps by dragging them upwards.
You can close up to three apps at the same time by touching each of the three preview windows with one finger and dragging them upwards at the same time.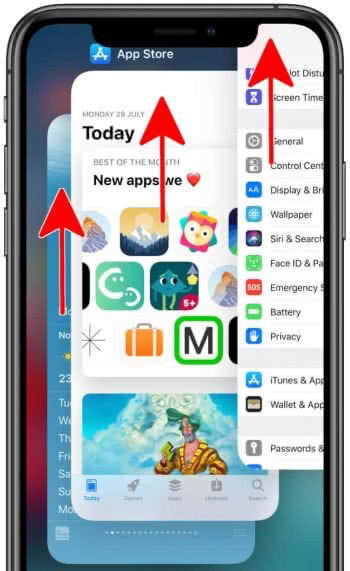 You may repeat this procedure as often as you like, effectively closing all of your apps in the shortest amount of time that is possible.
Tip: In another article we show you what else you can do, if an app freezes!