How To Recover Deleted WhatsApp Messages On iPhone

If you use WhatsApp on your iPhone, you probably receive several important and less important messages every day. Sometimes it might happen that you accidentally delete an important message or you just can't retrieve it. However, under certain circumstances, you can recover deleted WhatsApp messages on your iPhone. We'll show you how to do it!
Retrieve deleted WhatsApp messages on iPhone
Let's say you are looking for a specific message in WhatsApp but can't find it. Then chances are that the message was deleted by mistake. To retrieve the message, there is only one solution on the iPhone: a WhatsApp Backup.
A basic requirement for restoring messages from a WhatsApp backup is that you have activated iCloud Drive and iCloud for WhatsApp on your iPhone. This is the only way to create backups of your WhatsApp chat histories. Depending on your settings, the chats will be stored automatically and/or manually in your iCloud. Proceed as follows:
First open the "Settings" app and tap your name at the top.
Then select "iCloud" and enable "iCloud Drive" as well as "WhatsApp" with a tap on the button to the right.
In WhatsApp under Settings → Chats → Chat Backup you can now create WhatsApp backups manually and/or automatically.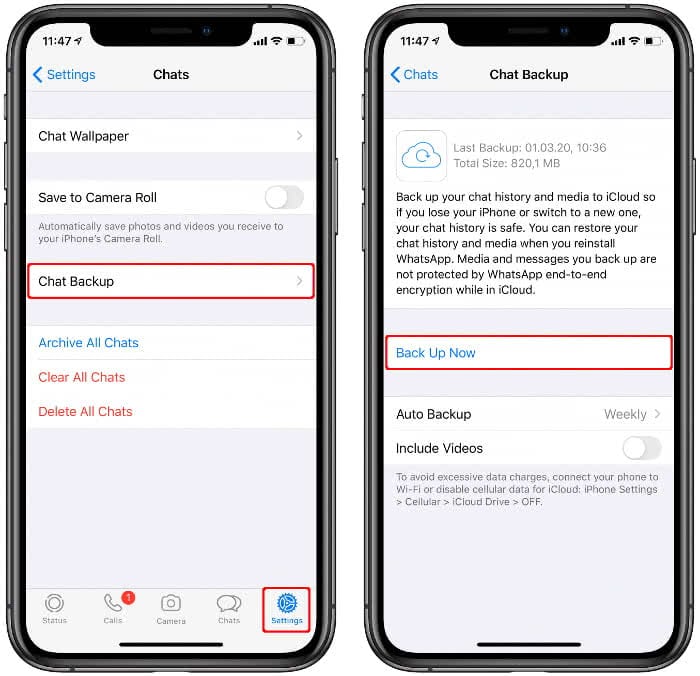 To restore a WhatsApp message from an iCloud backup, follow these steps:
First open WhatsApp and go to Settings → Chats → Chat Backup to see if an iCloud backup exists.
Now delete WhatsApp on your iPhone.
Then go back to the App Store and reinstall WhatsApp on your iPhone.
Log in to WhatsApp with the same phone number you used before and select to restore your chat history from iCloud.
After recovery, your WhatsApp chat histories should be complete again and the deleted WhatsApp message should be available. In another article we show you what you can do if all your WhatsApp chats disappeared. By the way, when restoring chats from the iCloud backup, all message histories are always restored. Individual messages cannot be restored this way.