Check iPhone Battery Percentage on Apple Watch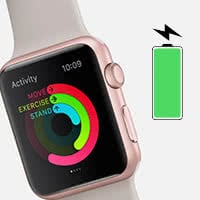 Is your iPhone often buried deep within one of your pockets? But you own an Apple Watch and prefer the comfort of glancing at information that is neatly displayed on your wrist, like a true 21st century citizen? Well then we've got great news for you! Here's an app to help you monitor and check your current iPhone battery percentage on the "Apple Watch".
How to check iPhone battery status on the Apple Watch
First of all, we will need to install the "Battery Watcher" app on the iPhone that was paired to the Apple Watch. You can get the app for free, at the iTunes App Store. It comes with a quick overview for your iPhone and an integrated "Apple Watch" app that allows you to monitor your iPhone battery from your wrist.

Once installed, you will need to go to your "Apple Watch" app on the iPhone and select the "Battery Level Watcher" app, then confirm that you'd like to have it displayed on the Apple Watch. You can also enable the respective toggle for displaying the app in your "Glances", which will allow even quicker access to the battery percentage information by swiping up from the bottom of the screen.
iPhone battery charge / percentage on the Apple Watch
This is how the app will display your battery percentages (see below), the left screenshot shows the Watch app in operation, while on the right we see the "Glance" mode. The full view displays a tad more information, such as the estimated time for standby, talk time and internet usage.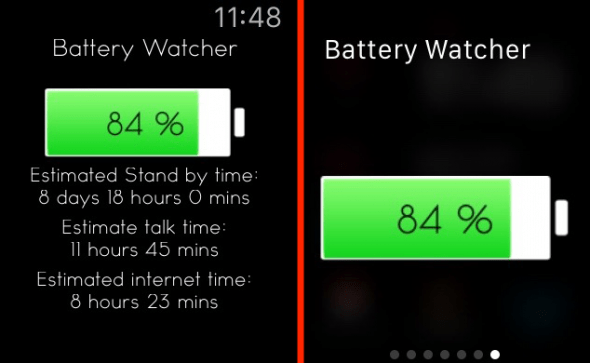 Note: Looking for a fun battery percentage dare game? Check out our tell me your battery percentage dare game and other fun WhatsApp games here.
"Battery Watcher" will keep you up to date on how your battery is doing without having to take the iPhone out, which is especially nice considering the cold winter weather that is slowly but steadily approaching. It also gives you an advance warning on when to engage "Low Power Mode" and get some extra battery life out of your device.