How to Adjust 3D Touch Pressure Sensitivity on the iPhone 6s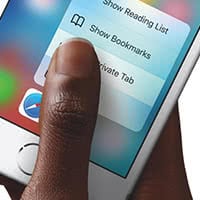 The new 3D Touch feature works on a spectrum. There are not only the light taps, the regular taps and the firm presses, but also all of the interactions in between. This is why 3D Touch ist pretty awesome for artistic purposes, effectively simulating the breadth or strength of a brushstroke.
All kinds of other interaction paradigms opened up with the iPhone 6s, such as "peek" and "pop", as detailed in our other articles. But what most people right now want to know, is how to adjust the 3D Touch sensitivity to their liking.
Adjusting 3D Touch to the right setting is akin to picking the proper firmness for your pillow or mattress. Sure, you can just leave it at the default setting. Or you tweak it to behave exactly the way you like, which makes for a far more comfortable experience. As 3D Touch is also used for launching the multitasking view and many other features, you want that extra bit of precision so your gestures are always recognized in the most optimal way.
Hint: You can even use your iPhone 6s keyboard as a trackpad via 3D Touch
How to adjust 3D Touch sensitivity on iPhone 6s and iPhone 6s Plus
Both of the new iPhones share the characteristic of carrying the 3D Touch feature, a pressure-sensitive touch input system that builds upon the proven touch screen interface popularized by Apple for use in smartphones.  Here's how to adjust your "cushioning":

Settings > Accessibility > Touch > 3D & Haptic Touch > 3D Touch Sensitivity

Go to your "Settings" app, tap "Accessibility" and choose "Touch". Now select "3D & Haptic Touch".

Use the "3D Touch Sensitivity" slider to pick one of the three predefined settings from light to medium to firm. There's a sensitivity test at the bottom of the page, which will allow you to take the new settings for a spin without leaving the app.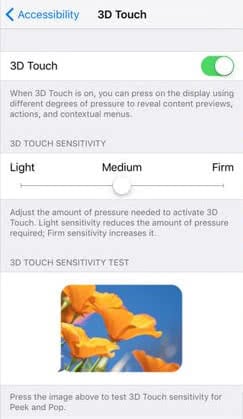 Most people enjoy the lighter setting, as the default requires quite a bit of pressure to invoke the "pop" or deeper 3D Touch interaction. Guitar players and handymen might opt to choose the firmer setting, which is helpful in case the iPhone keeps recognizing regular taps as presses.