How to Get a Refund for iTunes or App Store Purchases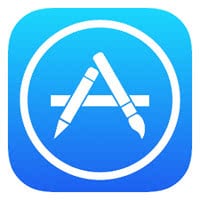 Did you buy an app and run into trouble with the functionality? It doesn't work as expected and you paid good money for it? Don't worry, Apple allows you to get an iPhone app refund. This guide shows you how to get your money back with problematic purchases by requesting a refund via the problem reporting form for the iTunes App Store.
How to get an iPhone app refund
All you need to get a refund for an app is already in your hand, or within your close vicinity, while reading this article. You will need your Apple ID (the one you used for logging into the App Store) and your password.
Plus a browser, either on your iPhone, iPad, Mac or PC. Visit the official problem reporting form Apple provides at https://reportaproblem.apple.com/ and enter your login data.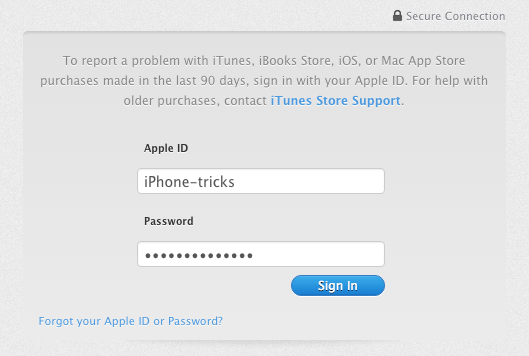 The following screen lists all of your recent purchases, including app pricing details at the time of purchase. Find the offending app and tap "Report a Problem", pick the correct issue from the list or supply your own in the text field.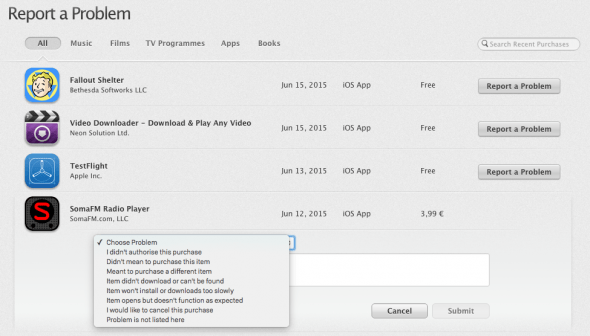 Valid reasons for an App Store refund
Of course you can't just go along and try a bunch of apps, then spontaneously decide to return all of them. It just doesn't work like that. In case you have a good reason, though, Apple will be more than happy to help you out.
Valid reasons for getting an iPhone app refund include non-working apps and broken functionality, unauthorized purchases by other people using your device, getting your iPhone stolen, crashing iPhone apps and games or accidental purchases and mixups.
Some apps are broken and won't let you install them on your device, or you wanted to use an app and the App Store is too slow in providing a download opportunity. Or maybe you have a very specific issue. Don't worry, Apple will hear you out!
Hint: By choosing one of the predefined reasons, you can avoid having to deal with Apple Support on an individual basis, but rather have your case dealt with automatically. Enter a brief problem description in the text field, then click or tap "Submit".
What happens after I ask for an app refund at Apple?
After a few days of financial processing, you will receive a refund to the account you used for payment. Checking the list again should reflect the refunded state at this point. We can't really accurately estimate just how long an individual refund will take, it depends on a number of factors such as the price, type of app and your means of payment.
Refunded apps should of course be uninstalled manually, as your usage rights are not retained. Usually, the refunded app will not be uninstalled automatically but remain on your device. We of course recommend removing it for ethical reasons. To check after deleting the app tap your App Store icon and got to your personal profile to check your list of purchased apps. Of course you can also hide your App Store purchase history with an easy trick. Learn more about clearing your App Store history here.