iEmpty – Customize Home Screen On iPhone Without Jailbreak

You can rearrange your Home Screen layout to a certain level and only within the limitations Apple has put in place. But with iEmpty you can leave gaps between your app icons and customize your Home Screen without a jailbreak. iEmpty allows you to create blank app icons to layout your Home Screen any way you like. Here's how to create a custom icon layout on iPhone with no jailbreak.
Customize iPhone Home screen with iEmpty
Usually app icons can be organized into folders, moved around on the iPhone icon grid or you can move app icons to another page of your Home screen, but nothing more. The following tutorial will explain how you can create your own icon layout on your iPhone's Home screen by applying a nifty little trick – without installing an app or a jailbreak. To do this, go through the following steps:
1. Press and hold one of the icons on your Home screen until they all begin to wiggle around. Then swipe left until you arrive at the rightmost page of your Home screen, which should be empty. Now take a screenshot of your empty Home screen by by pressing the Home button and Power button (up to iPhone 8) or the right Side button and the Volume up button (iPhone X and later) at the same time.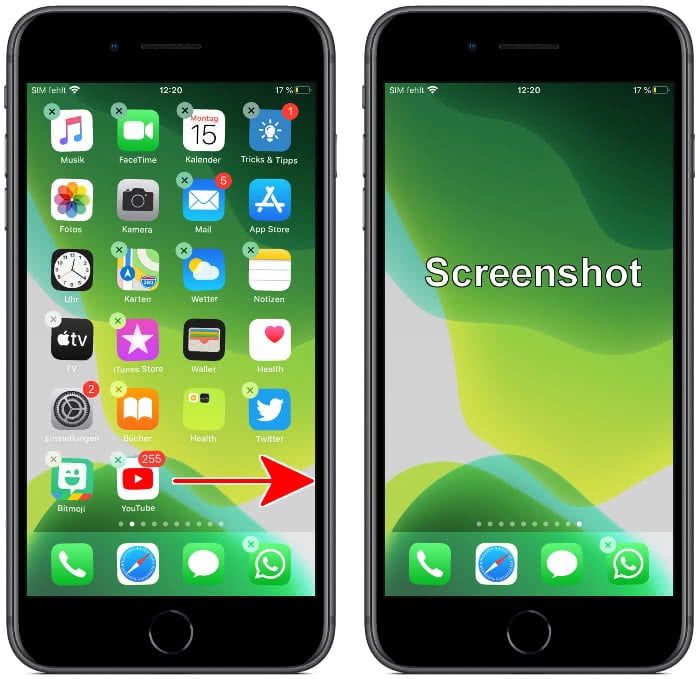 2. Now go to the following web address on your iPhone:
iempty.tooliphone.net
On the website, go to "Choose File", tap on "Photo Library" and select the screenshot you just made in the "Recent" albums. Then press "Done" in the upper right corner and tap "Send" to upload the screenshot.
3. On the next page scroll down a little to the uploaded screenshot with the icons. As you can see, for each app icon a position on the home screen is defined here.
Now tap an icon where you want to have a blank space on the Home screen. Then go to the Share button at the bottom, select "Add to Home Screen" and press "Add" in the top right corner without entering an app name.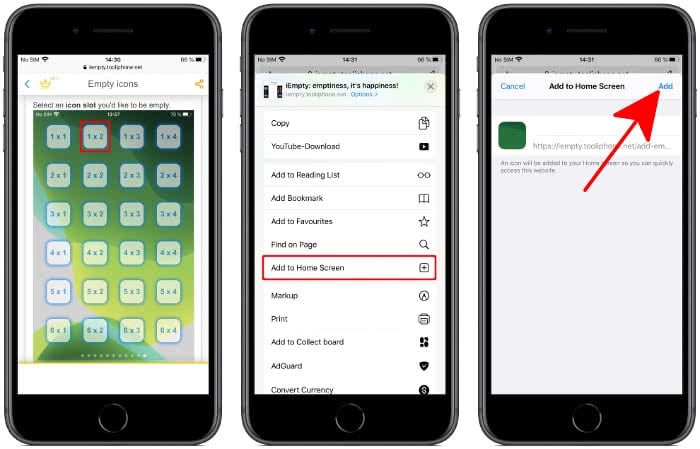 Tipp: If you want to customize your Home screen further find out how to hide apps here.
4. The generated icon lands on the first free position on your Home screen. Hold it down until all apps start to wiggle and pull it to the designated position. The place where you have positioned the icon will now be displayed as an empty space. Repeat the process for all the positions on the Home screen that you want to display as free space.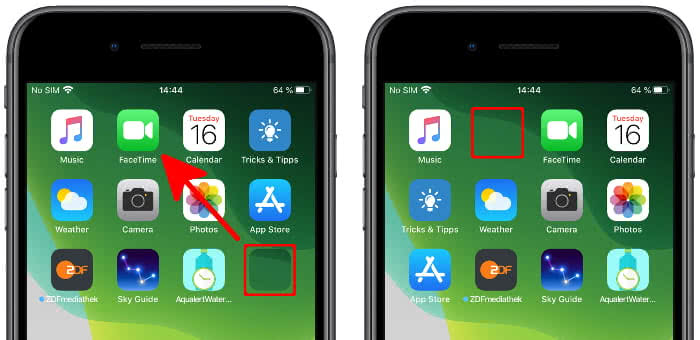 With iEmpty you can easily customize your iPhone home screen – and all this without a jailbreak or an extra app! In the end your iPhone Home screen could look like this.