Google Maps Offline for iPhone
Using Google Maps offline on your iPhone is possible, at least to some extent. This guide covers a nifty little trick that will allow you to use Google Maps without a (cellular) data connection or WiFi, which can be tremendously useful when navigating abroad or in places that have spotty coverage. You can also use this trick to make the most out of a low battery charge, as the continuous downloading of map data is rather taxing on your battery life.
The trick involves downloading the content of an area in the Google Maps app. You need to be connected to the internet and signed into a Google Account to proceed, at least for the preparation phase. When the process is complete, you will be able to access your offline map at any time for navigation and reference purposes.
How to save a map to use Google Maps offline
Google Maps → Search → [Tap bottom bar] → Save Offline Map

Open "Google Maps" on your iPhone or iPad, then search for a place. Tap the name of the place in the bar at the bottom without hitting the "Route" button, this will take you to a new screen. Now tap the menu button in the top right corner. Select "Save offline map". Now choose the size of the area you want to save by using the pinch-to-zoom gesture. The maximum area is around 50 square kilometres or 31 square miles.

Tip: Apart from Google Maps, there are other ways to navigate on the iPhone offline as well!
How to view and delete Google Maps offline
Google Maps → Your Places → Offline Maps → View All and Manage

Open "Google Maps". Tap the menu button and select "Your Places" from the menu. Scroll all the way down and tap "Offline Maps", then "View all and manage". You can both view and delete the cached offline maps from here.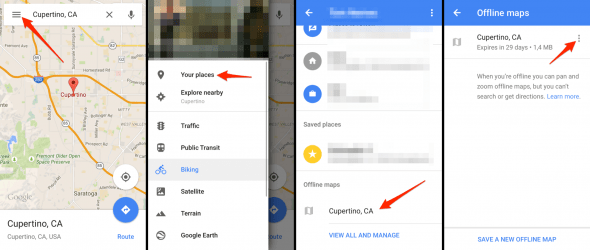 Hint: After 29/30 days, Google Maps will delete offline map content automatically.
Another handy feature for travelling is saving places to lists using Google Maps. Read more about saving place to lists.