How To Create An Apple Watch Backup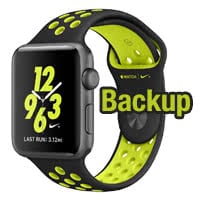 If you are wearing an Apple Watch around your wrist, you may have the question, if and how you can create a backup of your Apple Watch. You will find all information you need in this article. We will answer questions like: Where does my iPhone save the Apple Watch backup and what happens, if I have to restore my iPhone.
Automatic backup of the Apple Watch
As you might know, you have the option to turn on automatic iCloud backups on your iPhone. In addition you can create backups in iTunes manually.
In relation to the Apple Watch, you do not have to make this decision. A manual backup of the Apple Watch is unavailable at the moment. Instead you can benefit of the automatic backup, which is made regularly. The requirements are: your iPhone and Apple Watch have to be within range of each other, they have to have enough battery, and they have to be connected to the same Wi-Fi.
Storage location of Apple Watch backups
It might not be clear at the first glance, where this automatic backup is saved at.
The Apple Watch backup is saved on your iPhone in general. Once you disconnect your watch from your iPhone, an automatic backup will be created, which helps you to restore your data later on. As long as you do not reinstall iOS on your iPhone without restoring the backup, your Apple Watch data is safe.
In addition the Apple Watch backups are part of the iCloud or iTunes backups. Hence, if you backup your iPhone on a regular basis, your watch data will be safe for the worst case.
Transfer Apple Watch backup to another iPhone
As the Apple Watch backup is part of the iPhone backup you cannot access it separately. Therefore, you can neither send it to someone nor transfer it to another iPhone. This is excluded by the case of restoring an iPhone with the iTunes or iCloud backup, in which your Apple Watch backup is included.
Apple Watch backup data
An Apple Watch backup contains the following data:
App-specific data and settings
Order of your apps icons
Dials
Dock settings
System settings
Health data (see note below)
Notifications settings
Synchronized playlists
Synchronized photo library
Time zone
Please note, that the recorded health data (e.g. heart rate, calories) is only included in
encrypted backups
. We are discussing this topic in another topic in depth and explain, how to safe this health data securely.
Not saved with backup:
Connections to Bluetooth devices
Credit card settings for Apple Pay
Code settings