WhatsApp Status Images – How To Activate & Use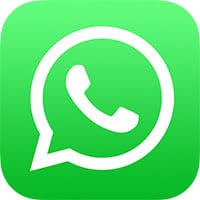 The WhatsApp status was one of the first features in the chat service. To refresh its appearance, the popular messenger has updated the old status feature to enhance its functionality. It is now possible to post images, photos, videos and GIFs besides the normal text in your WhatsApp status. Like in Snapchat, friends can comment on it, but the WhatsApp status images will disappear after 24 hours. We show you, how you can use photos in WhatsApp Status.
Activate status feature
The WhatsApp status featuring pictures is available to all users of the messaging app. If you cannot use the feature yet, just restart the app. Doing so, open the app switcher by pressing the Home Button twice and swipe the WhatsApp preview upwards to close the app. Once you open WhatsApp again, you should see the status feature in the bottom menu bar. By the way: There is no update needed.
Create a WhatsApp status with photos
As said above, the upgraded status function enables you to share various media, e.g. photos, videos and GIFs with your WhatsApp contacts. There are two new tabs for this in the main menu bar: "Status" and "Camera".
You can get an overview of the last status notifications of your contacts in the "Status" tab. Tap one contact and you will see his/her status.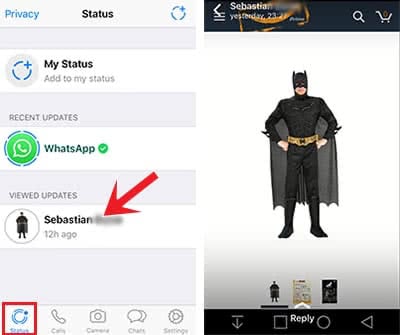 If you want to add a status or update an old one, tap the circle icon with the plus in the right top corner of the Status display. This will open the camera mode of your iPhone. Use the release button as usual to take a picture or video for your WhatsApp status. If you are happy with the photo or video, press the blue arrow at the bottom right to confirm.
Your single status updates will be lined up, so that it is in chronological order like a story, which will disappear after 24h. This may sounds familiar to you, if you are using Snapchat, Instagram & Co.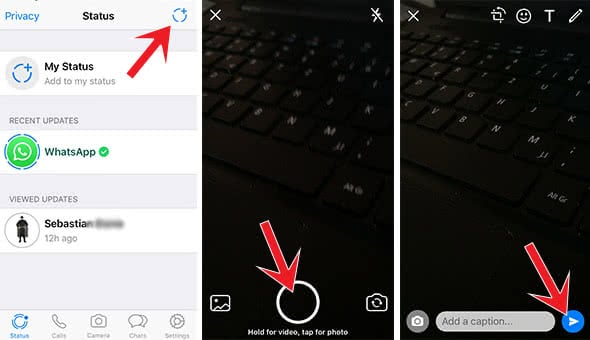 If you want to change your status immediately, without checking on the status notifications of your friends, you can go to the "Camera" tab in the main menu of the messenger app instead. It will instantly open the iPhone camera to take a picture or video for your status.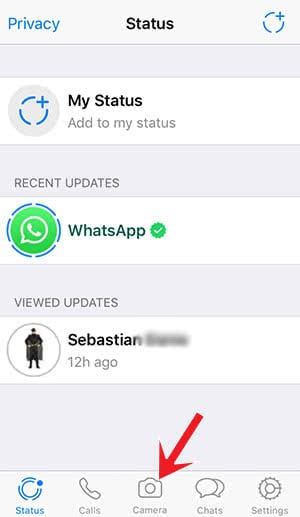 Add Emojis, drawings & text to WhatsApp Status
As soon as you have taken and selected a photo, video, etc., you can edit it to make it more personal. There are four options in the top right of the screen. You can rotate the image, add Emojis, drawings or text and write a caption as usual. You can rotate the added items and make them bigger or smaller by pinch-to-zoom.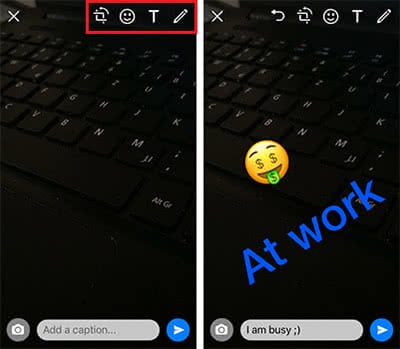 Use saved photos, videos & GIFs for WhatsApp status
To use photos and videos from your library, just tap the "photo button" in Camera mode. This leads you to your photo library. By clicking "GIF" you can search for a suitable GIF for your status. By tapping "More Apps" you can load content from other apps, such as Dropbox & Co.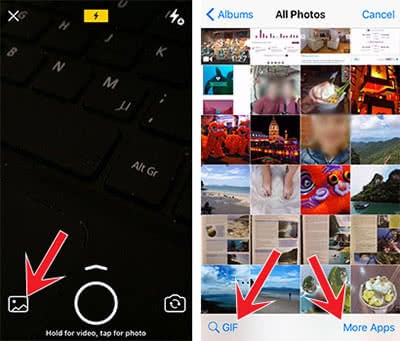 Share WhatsApp status with all contacts or only with certain contacts
You have the option to decide, whether you want to share your status with all or only chosen contacts. To do that, go to "Privacy" at the left top corner of the Status tab. In this section you can determine, who you want to share your status with and add exceptions, etc.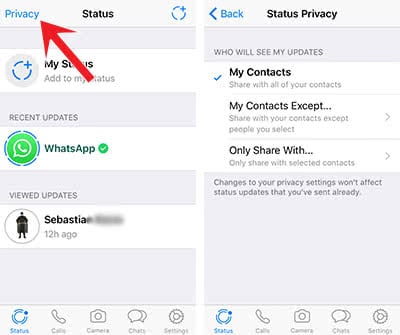 Did you know, that you can forward photo albums in WhatsApp? Learn how to share albums in WhatsApp here. By the way you can also forward WhatsApp messages. Follow the link to find out how to forward WhatsApp messages.