How To Find Audiobooks On Apple Music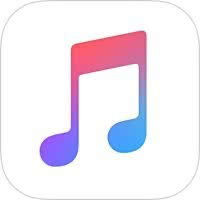 Audiobooks are great for long rides and rainy days and they are available on Apple Music. But Apple makes looking for audiobooks on "Apple Music" surprisingly complicated. Especially if you are searching for new, unknown material to listen to. The app Spooks curates audiobooks so you don't have to. If you prefer using Apple Music and no additional app, we have some tips for you on how to browse Apple Music audiobooks.
Does Apple Music have audiobooks?
First off: Yes, you can find audiobooks on Apple Music and even quite a lot, but they are hard to find, especially if you are just browsing. If you already have an Apple Music subscription all audiobooks are free audiobooks on Apple Music. However, if you do not have a subscription you can also find free audiobooks using a different app.
Hint: If you do not have a subscription to Apple Music you can save money by subscribing to the Apple Music Annual plan.
Search for Apple Music audiobooks
A good way to find new books is the "Browse" section in Apple Music. Scroll down to "Genres" and you should find the category "Spoken Word & Audiobooks" on the list. This path varies depending on the country you are living in. You may also not find an audiobook genre at all.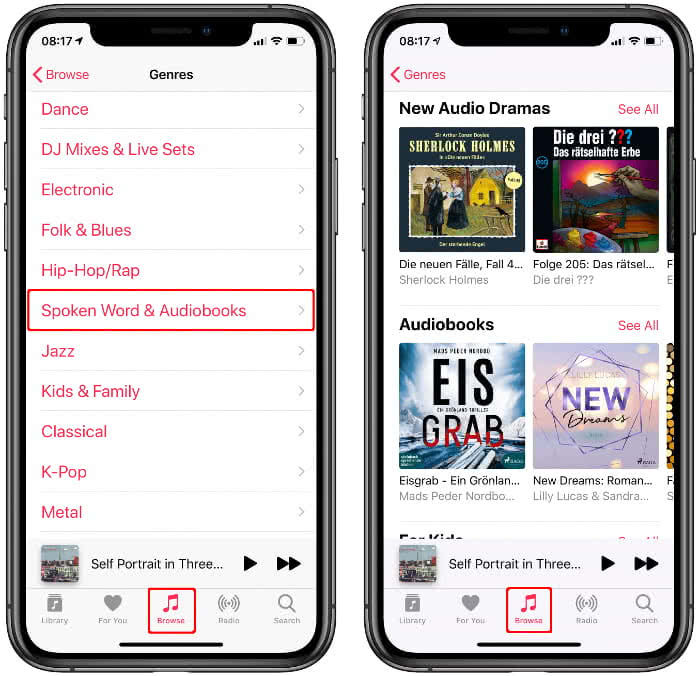 On the next level, you can browse through various sections such as New Audio Dramas, Audiobooks and For Kids. On top, you will find the latest audiobooks that were added to the Apple Music library.
To find audiobooks on Apple Music, you can also use the "Search" feature by entering the search term "audiobook" or related terms. Different search terms will also lead to various results. This will give you a quick overview of the available audiobooks.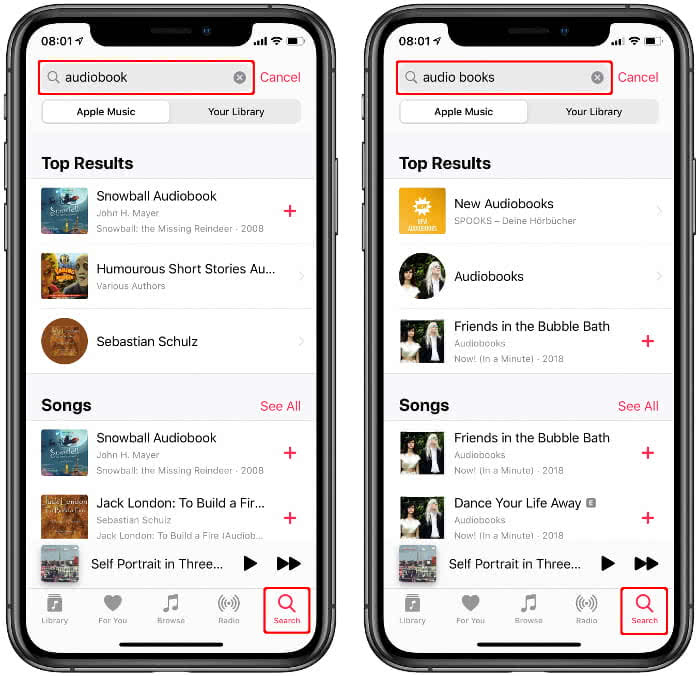 You will achieve the best results by searching for "audiobook" and "audio books". If you scroll down, you will see that the results are sorted in different categories such as Songs, Albums, Artists and Playlists.
Hint: If you use Apple Music a lot these tips for optimizing Apple Music might be just right for you.
Browse for audiobooks in Apple Music with Spooks
Spooks curates audiobooks available on Apple Music and even assigns them to categories and adds a summary so you can explore new material. Once you have installed the app you can use it to browse for audiobooks.
As soon as you found one to your liking, you just tap on the audiobook and hit the play button. Spooks transfers you to Apple Music and opens and plays the audiobook there.
Find free audiobooks
If you love audiobooks the app Audible seems like a great choice, but Audible isn't free. There is, however an alternative as long as you aren't set on the latest bestsellers. The app Librivox offers audiobooks for free. The app offers over 50.000 books with predominantly classics. As the books are recorded by volunteers the quality of the texts may vary.
Tip: Here's how to find new audiobooks in Spotify!