iPhone Button not Working? Try AssistiveTouch

Do not freak out when your iPhone button is not working, be it the Home Button or the Power Button (also known as Sleep/Wake or Standby Button). A costly hardware repair or button replacement is not the only solution if your iPhone's buttons are broken. There is a handy software solution already built into your iPhone and it is called AssistiveTouch. This guide shows you how to replace the functionality of a broken iPhone button using AssistiveTouch.
How to access AssistiveTouch
Settings → Accessibility → Touch → AssistiveTouch

Firstly, you will have to open up your "Settings" app. Then go to "Accessibility" and tap "Touch". Activate "AssistiveTouch" by toggling the button next it. An Icon should appear on your screen as a white and round icon.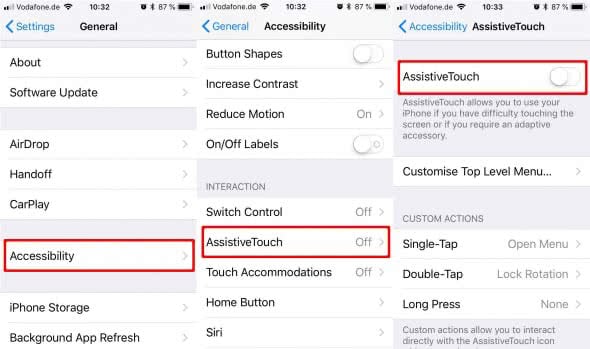 Additionally you can go down to "Accessibility Shortcut" to configure a Shortcut for AssistiveTouch. By default, a great shortcut is to set it to "triple-click Home".
How to use AssistiveTouch as Home Button
Press the Home Button three times in a quick succession to open "AssistiveTouch". A white dot will appear, you can shift it around to a comfortable to reach area. Tapping the dot will open the "AssistiveTouch" menu, which consists of six white icons spread across a blurry, dark surface. This menu can be opened on any screen from within any app, so you will always be able to access it.
This menu will allow you to mimic certain features such as the Home button, by tapping "Home" on the AssistiveTouch screen. By going to the "Device" menu, you may access actions such as locking the screen, rotating the screen or changing the volume. As you can see, the AssistiveTouch feature can replace a lot of the functionality the hardware buttons usually provide.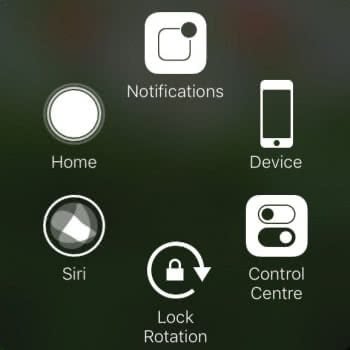 Note: If your AssistiveTouch menu menu does not show "Home" as an option, you can customise your AssistiveTouch menu. Read on to learn how to customise your AssistiveTouch menu.
You can also use Assistive Touch to turn off your iPhone when you have a broken Power button. Learn how to swith off your iPhone with a broken Power Button.