How to Use The New iPhone WhatsApp Stickers
Stickers themselves aren't new to messenger apps, but stickers are new to WhatsApp. The popular messenger app introduced an update for the iPhone containing stickers, time tags and location tags. With the new WhatsApp feature you can now add stickers and tag locations and time and send edited photos via WhatsApp. This article explains how to add stickers to your WhatsApp photos on your iPhone.
Time- and location tags on WhatsApp
With this feature you can add time and location tags as well as stickers to your pictures on WhatsApp. Just tap on the camera icon in your WhatsApp chat and choose either an existing photo from your camera roll at the bottom of the screen or take a new picture with your iPhone. Then tap on the emoji icon at the top of your screen and choose one of the stickers.
You can also alter the position and size of the stickers before sending your edited photo. Just tap on the sticker and alter the size using thumb and index finger. To alter the position simply move it around on your display using your index finger.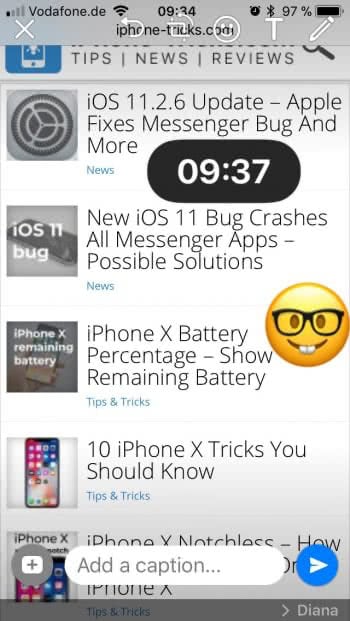 Tip: You want to edit your photos on WhatsApp? This article explains how to use filters for photos and videos on WhatsApp. You can also save photos and chats on WhatsApp with a backup. Learn how to backup your WhatsApp chats.