Activate Google SafeSearch For Child Protection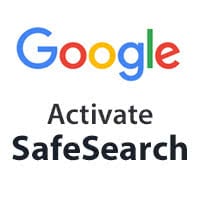 If you allow your kids to use your iPhone or they already have their own one, you can customize the settings, so that your children don't see adult content. There are multiple ways to set up a child protection. One of them is Google SafeSearch, which filters the search results of the search engine. All other options for child protection are linked at the bottom of this article.
Activate Google SafeSearch
Safari > "Google.com" > Settings > Search settings

Open Safari on your iPhone or the iPhone of your kid and go to google.com. On the Google landing page, scroll down to the bottom and tap Settings. Choose Search settings in the drop-down menu.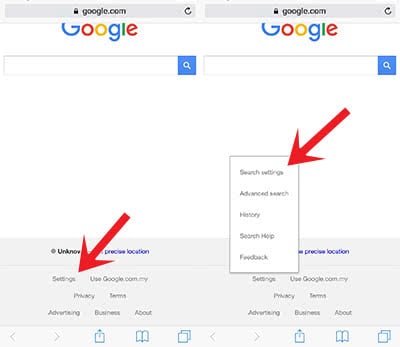 To activate the SafeSearch filter and filter adult content, you have to turn on the option "filter explicit results".
Don't forget to scroll to the bottom and to hit Save – otherwise the changes won't be applied.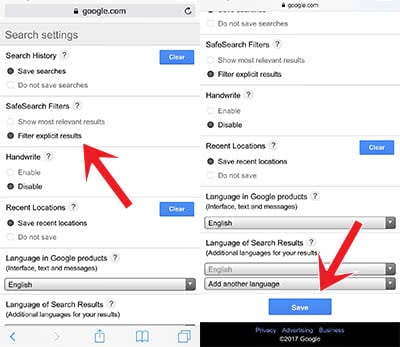 You can activate the SafeSearch in the Google App the same way.
How does the SafeSearch filter work?
Google SafeSearch filters explicit search results like i.e. pornographic content. Although SafeSearch recognizes a lot of these websites and filters them, it won't be a 100% protection.
Lock Google SafeSearch for changes
Safari > "Google.com" > Settings > Search settings > Request desktop site
In order that your kids don't change your adjusted settings again, you should lock SafeSearch. Go to the same view as before and request the desktop site, because this setting is not available on the mobile website.
Press and hold down the "Refresh" Arrow in the input box at the top right side. Then choose "Request desktop site".
You will see the same site, but as the desktop version. Have a look in the section SafeSearch. It will display the new option "Lock SafeSearch". Click it and follow further instructions. You will have to log into your Google account at this point.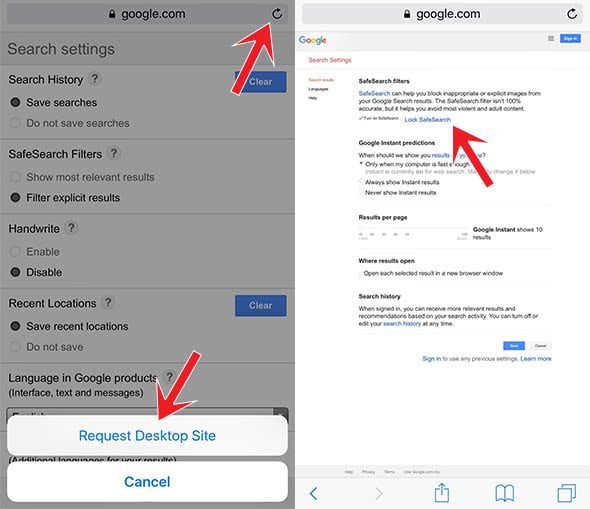 Troubleshooting for SafeSearch
Settings > Safari > Block Cookies
If the above described changes, don't lead to the desired result, or if you get an error note at a certain point, you might not allow Cookies in Safari.
Open the Settings on your iPhone or your kid's iPhone and go to Safari > Block Cookies. Check, which option is activated. The best option would be "Allow from websites I visit", because it is a good compromise and should solve problems with SafeSearch.
iPhone Child Protection – Further tips & tricks