Share Music Between iPhones With Home Sharing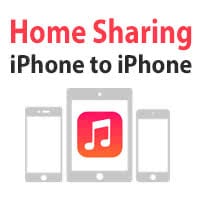 To load music on your iPhone, you can use the music sync in iTunes. The purchased music on iTunes can be shared with your family through the Family Sharing feature. So the music doesn't have to be purchased multiple times. Is it possible though to play music on a different device, while the music is saved to your iPhone? The answer is yes and here is how it works…
Prerequisites
The feature that you are going to use is called Home Sharing. To avoid any possible problems, you should pay attention to these things:
Make sure that both iPhones are connected to the same Wi-Fi network.
In addition use the latest iOS version. If you need to update your iOS, you go to the Settings of your iPhone and click General > Software Update. If there are updates available, it will show on this level and you can install them right there as well.
Set up Home Sharing & share music
First take the iPhone that has the music, which you want to share with a second iPhone.
Open the Settings on this iPhone and go to Music. Scroll all the way down to the bottom, where you find the section Home Sharing. Click Sign In. You may want to choose the suggested Apple ID by clicking Sign In. If it's the wrong Apple ID, you can choose Use other Apple ID and enter the right data.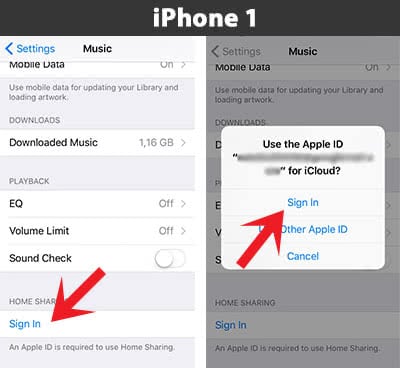 Next do the same steps with the second iPhone, which you want to share the music with.  So go again to the Settings > Music and tap Sign in in the Home Sharing section. Now it is important to sign in with the same Apple ID that you've used on the first iPhone. Otherwise the Home Sharing doesn't work.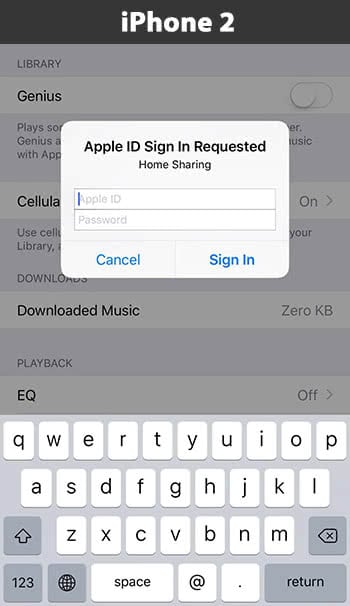 You will have to confirm the sign-in with the Apple ID on the first iPhone. It will open a pop-up window automatically. Click Confirm.
If you have activated the Two-Factor Authentication, you will receive a message with the confirmation code on one of your trusted devices. So you have to enter this code on the second iPhone.
Stream music via Home Sharing
Open the Music app on the second iPhone. Click Library at the bottom left and tap Edit at the top right. Select Home Sharing and click Done. If the Home Sharing field is already showing, you can obviously skip this step.
Now you only have to choose the shared library and then you can stream the shared music on both iPhones as long as they use the same Wi-Fi.