WhatsApp Status – Change To Cool Status Message

WhatsApp is one of the most popular messenger services worldwide. This is not surprising as the third-party app is available for iPhones, for Android, Blackberry, Nokia and Windows Phone. Mostly it's used for sending messages, images and videos as well as voice messages. However, you can also create your own catchy WhatsApp status – similar to Facebook. We explain how you can change your status and how you can find awesome catchy phrases for your own status.
Change WhatsApp status

WhatsApp → Settings → tap on Profile photo or own name → About

Open WhatsApp afterwards and choose the "Settings" icon in the bottom menu bar. Then tap on your profile picture or name.

If you haven't installed WhatsApp yet, you can go to the App Store to download WhatsApp on your iPhone for free.

In the "Edit Profile" menu you will see your current WhatsApp status under the heading "About".
Change "Hey there! I'm using WhatsApp." default status
The default WhatsApp status reads "Hey there! I am using WhatsApp.". You can change "Hey there! I'm using WhatsApp." status as you wish by tapping "About" and entering a new one.
Below you can also choose one of the standard statuses from the section "Choose New Status" or you can enter your own WhatsApp status line or emojis as your WhatsApp status.
Did you know you can also post pictures as your WhatsApp status for 24 hours? Learn more about the the "Status" icon on WhatsApp here.
Find catchy & funny phrases for WhatsApp Status
We admit, the standard status phrases are very boring. You can either search online for favourite movie quotes or famous sayings or check out our list of the Top 99 Best WhatsApp Status Quotes. In addition we have sorted numerous WhatsApp status lines into categories:
Friendship WhatsApp Status
Birthday WhatsApp Status
Christmas WhatsApp Status
Love & Relationship WhatsApp Status
Sad WhatsApp Status
WhatsApp Status to make him or her jealous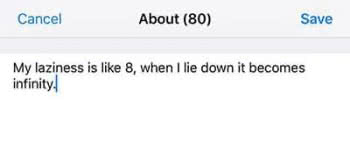 Tip: If you do not want people to know when you were checked WhatsApp last, learn how to turn off "Last Seen". In the article we explain how to hide your WhatsApp online status.
Besides the funny status quotes (like "My laziness is like 8, when I lie down it becomes infinity") you can also find some, which are messing with your contacts (like "This contact blocked you"), modified sayings or social media references (like "You don't have to like me. I'm not a Facebook status!").
If you have found a great, fitting status phrase from our page for your own status, you can copy it and insert it in the status field right away.
If you want to try something different – play a game with your friends. We compiled some WhatsApp Dare Games, Quizzes & Puzzles and Love Games.